Financial statements 2018: Metropolia posts an improved result and enhances its social impact through innovation hubs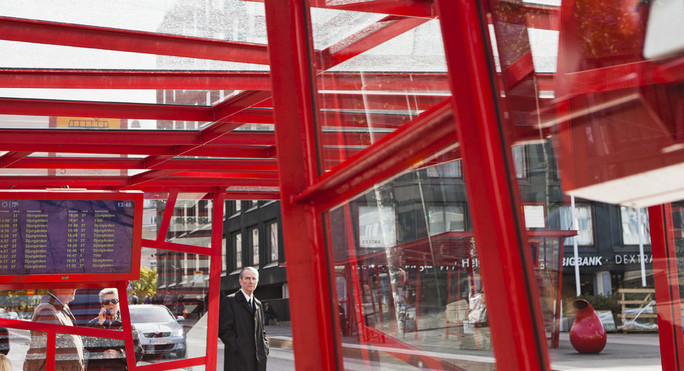 Metropolia chose social impact as the focus of its operations in 2018. To this end, the UAS has concentrated its RDI activities at five phenomenon-based innovation hubs.
Financial statements 2018
Turnover and other operational income totalled EUR 96.2 million.
Operating expenses amounted to EUR 94.4 million, a decrease of 2.8 per cent from the previous year.
Personnel expenses totalled EUR 62 million, representing 66.2 per cent of turnover.
Depreciation and amortisation amounted to EUR 5.7 million.
The result for the year was a loss of EUR 0.06 million. This marked an improvement of about EUR 1 million compared to the previous year.
Metropolia boosted the efficiency of its operations during the financial year by a total of about EUR 2.6 million.
At year-end, Metropolia's financial situation and liquidity were good.
"Despite the difficult financial conditions, we succeeded in improving our result for the year by making the necessary adjustments, increasing the efficiency of our operations and meeting our key goals. Our entire staff played a valuable role in this. We expect 2019 to be another year of change and renewal, although we have significantly better resources at our disposal this year than we had last year," says President and CEO Riitta Konkola.

Metropolia's result was a loss of EUR 0.06 million for 2018, which was a challenging year financially. However, the result improved by nearly one million euros compared to the previous year.

Metropolia's financial situation was balanced by an increase in the efficiency of operations, growth in RDI and business operations and careful monitoring and control of the UAS's finances. Metropolia also succeeded in its fundraising and in meeting key targets, such as the number of degrees completed, credit points accredited and publications as well as the volume of student feedback.
The co-operation negotiations with the staff concerning redundancies were held during the past year, leading to the dismissal of 30 employees.

Despite a significant decrease in basic government funding, Metropolia's overall financial condition at the end of 2018 was good. Profitability improved on the previous year, liquidity and solvency remained good and the equity ratio was 76.2 per cent.

Turnover and other operating income totalled EUR 96.2 million, an increase of 0.3 per cent on the previous year.
Fundraising activities generated two million euros
Metropolia managed to raise two million euros in funding through donations in 2018. The donations did not impact income in the 2018 financial statements, as they were capitalised as fund transfers in the balance sheet.
Excluding the proceeds from fundraising, Metropolia's turnover and other operational income would have been EUR 1.6 million less than in the previous year. Overall, Metropolia boosted the efficiency of its operations during the financial year by around EUR 2.6 million.
A year of intensive changes at the campuses
August 2018 marked the tenth anniversary of Metropolia's establishment. The staff and students of the decade-old UAS celebrated the anniversary at the four campuses, together with their stakeholders.

There were extensive changes at the campuses in 2018. Metropolia closed eight of its campuses during the year as it is in a process of concentrating its operations at four campuses. The extension to the Myyrmäki campus in Vantaa and the new Arabia campus in Helsinki were opened in August 2018. The first stage of the brand-new Myllypuro campus in Helsinki was completed in December 2018 and inaugurated in January 2019.
Record number of degrees completed
Metropolia students completed a record 2,838 UAS Bachelor's degrees and 424 UAS Master's degrees in 2018. The number of degrees grew particularly in the Schools of Technology and Health Care and Social Services.

Metropolia's Continuing Education and Business Solutions succeeded in growing turnover especially in Finland. Turnover from operating activities and other operating income totalled EUR 5.9 million. In 2018, the UAS provided 390 further education and corporate training events, in which a total of 5,360 people participated. Those who used the services gave an average grade of 4.2 on a scale of 1–5 when asked about how well the training had met their expectations.
Helsinki XR Center to be launched
Metropolia received profiling funding from the Ministry of Education and Culture for launching the Helsinki XR Center at the Arabia campus in cooperation with the City of Helsinki, Business Finland and the Finnish Virtual Reality Association (FIVR). The centre will serve as a community for developers, application designers and researchers in the fields of augmented reality (AR) and virtual reality (VR) technology.

With the aim of increasing its social impact, Metropolia has concentrated its RDI activities at five phenomenon-based innovation hubs. These are:
Customer-oriented Wellbeing and Health Services
Clean and Sustainable Solutions
Data-driven Construction
Functional City for People
Smarter Mobility
In 2018, Metropolia's external RDI income amounted to about EUR 5.4 million, an increase of approximately EUR 0.4 million on the previous year.

Strategic cooperation on the international stage progressed with preparations for joint projects through the European partner network U!REKA. In Finland, Metropolia continued to expand its cooperation with the Haaga-Helia and Laurea universities of applied sciences, with which it has formed a strategic alliance.
Renewal together with the staff and students will continue
The year 2018 was challenging for the wellbeing of the staff. However, the positive anticipation for new, modern premises served as a counterbalance and a source of strength for the staff, as did the support of the work community and the feeling of performing meaningful work.

Metropolia will continue to renew its operating culture by enabling interaction, facilitating change processes, promoting a community spirit and creating forums where people can voice their opinions, both at the new campuses and in the digital environments.
Additional information
President and CEO Riitta Konkola, forename.surname [at] metropolia.fi, tel. +358 50 548 6069.