Make the World Yours - study at Metropolia, the largest UAS in Finland!
7.1.2021 - 12:00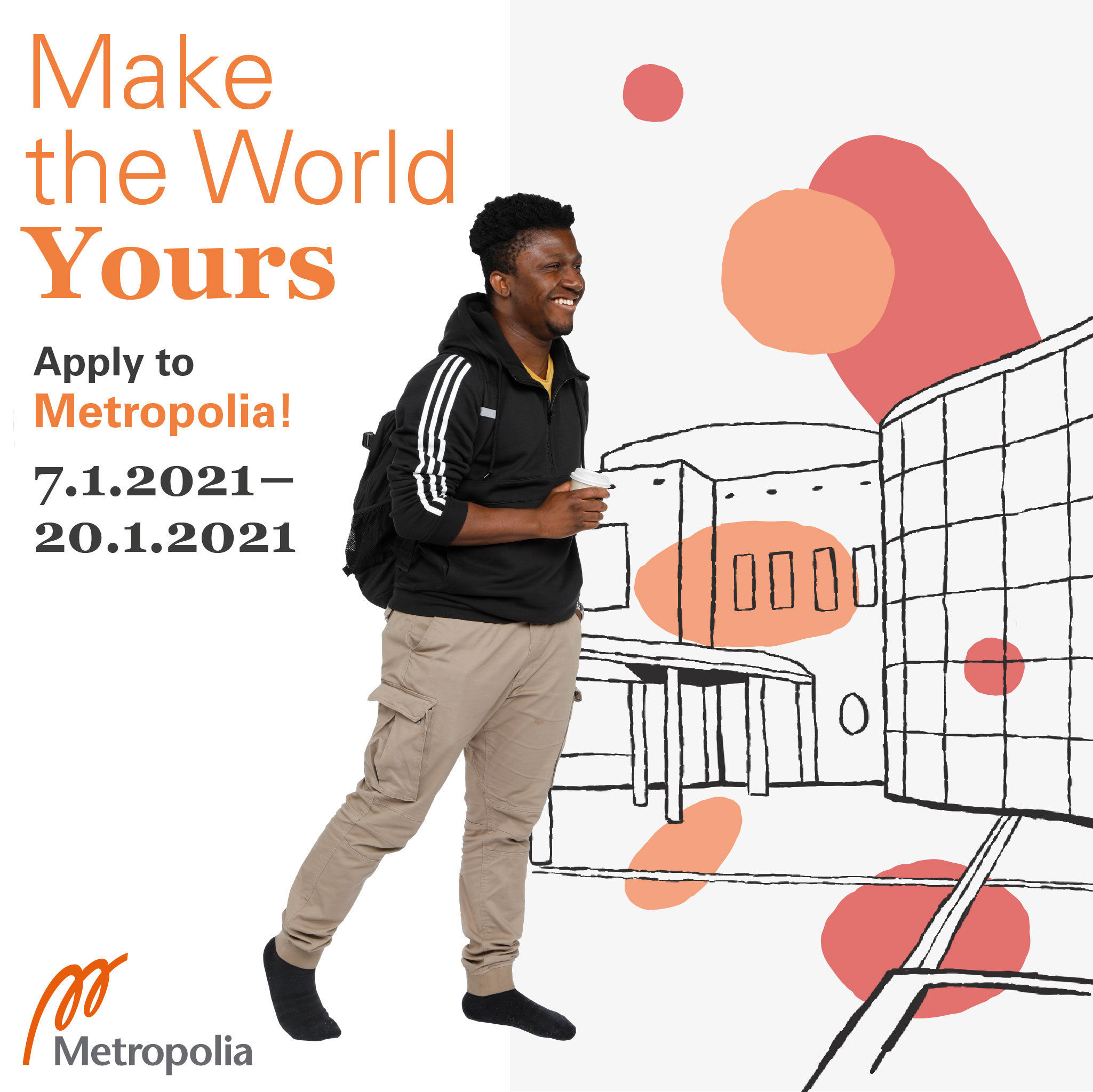 Planning an international career and looking for degree studies conducted in English? Make the world yours and choose Metropolia, located in the capital area of Finland with excellent working opportunities both during studies and after graduation. 

The national joint application for the International Bachelor's and Master's Degrees is currently on, the application time is January 7-20, 2021. The studies begin in August. Metropolia has in total 14 international degree programmes in its offering, 6 Bachelor's Degrees and 8 Master's degrees. 
Get to know our degree programmes
Metropolia's International Degree Programmes: 

Bachelor's Degrees
Master's Degrees
Follow our student ambassadors' stories in our Instagram account, @metropolia_uas! 

Check out the following videos:
See also these links: 
How to apply
Check out the complete English Degree Programme offering on the Metropolia website or Studyinfo.fi site. On Studyinfo.fi you can find the education offering by introducing the keyword Metropolia-January2021. Please note that the application process is completed on Studyinfo.fi. 

The joint application period for the Bachelor and Master's level degrees in English is 7 -20.1.2021. Additionally, there will be a separate application in February-March 2021 for some International Degree Programmes.  

The joint application for the Bachelor's and Master's Degrees conducted in Finnish will be in March 2021. 
Further information
Please kindly contact admissions [at] metropolia.fi for any admissions related issues and questions. 
Release
Sirpa Rutanen
Communications & Marketing Specialist; International Student Recruitment
Metropolia Communications 
p. +358 40 716 2707
sirpa.rutanen [at] metropolia.fi