Match Up - The XR Event 20th Nov 2019 4 -9 PM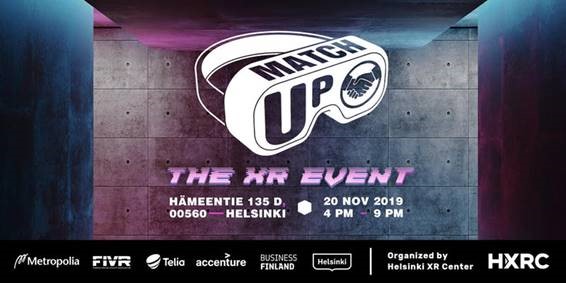 Welcome to meet and greet & experience the Finnish XR!
Time: 20 Nov 2019, 4 pm - 9 pm
Place: Hämeentie 135 D, 00560 Helsinki
The biggest XR event in Finland - Match Up the is an annual SLUSH pre-event in Helsinki, focusing on AR/VR industry, technologies and solutions. The event is held now for the third time and it will host 500+ attendees from all over the world. During the evening attendees will meet top VR/AR companies and startups. Forefront corporations will tell how they have already utilised XR in their projects and keynote speakers will share their industry expertise and outlook of future XR development and technologies. Food and drinks available all night!
Who should attend?
Companies interested in new solutions in VR/AR solutions
Companies looking for partners and new talents
AR/VR teams and startups seeking new customers
Industry experts
Academics
Students
Get your tickets now at Eventbrite-webpage before sold out! Remember to register – from the entrance you'll get your event badge and get access to all event areas.
Program 4 - 9 pm
Main Stage
Big keynote talks from big names! After each talk we will have dedicated times for Q&A sessions.
Steven M. LaValle, Professor of Computer Science and Engineering (Robotics & VR) telling about wireless VR
Urho Konttori from Varjo telling about their Varjo x Volvo cooperation
Rikard Steiber from HTC Vive
At this stage you will also hear pitches of the TeliaLab XR Innovation Challenge & the announcement of the winner later in the evening.
Showcase Stage
The Showcase Stage is dedicated for talks about various customer cases in the field of XR.
Wärtsilä: How Wärtsilä uses XR in education
Teatime Research Ltd: Everything in XR and spatial computing from planetary defense and space navigation through education and scientific outreach to VR karaoke and silly experiences.
ZOAN: Sami Heinonen tells about the creation of Vesala AR experience
VIVIDLY App: Gunita Kuļikovska tells about XR for resilient urban planning and citizen participation
Demobooths
Over 30 interesting exhibitors from the field of XR showing off their mad XR solutions! Come try out their demos!
Lounge
Welcome Speech
Open Bar by Helsinki Distilling Company
Accenture Liquid Studio's Demo Area
Food & Drinks
House DJ playing some groovy tunes
AR Art Gallery
Matchmaking
Facilitated Matchmaking 1-to-1 sessions all night! Attending a matchmaking event is a quick and easy way to meet new potential cooperation partners. High speed meetings are perfect for first impressions and new contacts. Register beforehand.
Organizers, partners & sponsors 
This year the main organizer is brand new Helsinki XR Center together with Metropolia UAS & FIVR - Finnish Virtual Reality Association. The matchmaking session is organized by Enterprise Europe Network.
Main Partner of the event is Telia Company. Sponsored & Supported by Business Finland,City of Helsinki, Accenture Finland, The Helsinki Distilling Company, HTC Vive, Stadin Ammattiopisto. All prints are sponsored by Origos Oy.
Get your tickets now before sold out at Eventbrite-website. 
This year the main organizer is brand new Helsinki XR Center together with Metropolia UAS & FIVR - Finnish Virtual Reality Association.
More information
Helsinki XR Center - the gateway to Finnish VR and AR -Metropolia web page.
#MatchUp2019 @helsinkixrcenter @HelsinkiXR