Mr Jari Olli appointed member of Industry Consultative Committee at University of Colombo's Faculty of Technology
22.3.2019 - 12:00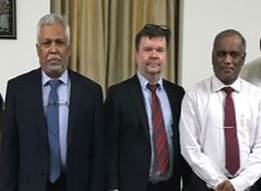 Mr Jari Olli, Head of School of Smart and Clean Solutions at Metropolia UAS, has been appointed as a member of Industry Consultative Committee at University of Colombo's Faculty of Technology in Sri Lanka. The faculty includes the fields of Agricultural Technology, Environmental Technology, ICT and Instrumentation and Automation.
The objective is to provide the undergraduates of the Faculty of Technology with knowledge, skills and personal development, in order for them to become technology professionals able to tackle the national and global technological challenges in their respective areas and beyond. In this context, Jari Olli will actively contribute to the curriculum of the respective degree programmes, promote internship training opportunities and identify viable research projects.
"My goal is to bring new ideas to curricula, pedagogy, internationalisation and business collaboration. The Committee is led by Dean J.K.D.S. Jayanetti, and it is composed of Heads of Faculties and a few other experts, including myself", Mr Olli explains.
Metropolia signed a Memorandum of Understanding with University of Colombo in December 2016 with the emphasis of the partnership on Clean Technology solutions. The cooperation has been very active ever since.
"In December 2018 I was there for a visit and held one seminar opening speech. Currently our SMART team leader Anssi Ikonen is on-the-spot advising about the potential of IoT. In a couple of weeks, the Head of Instrumentation and Automation will come to visit us and will have a few teaching packages at Metropolia", describes Mr Olli the current cooperation.
Metropolia has a special interest towards Sri Lanka, as the country has a growing middle class interested in education and a fast developing economy. The citizens have a good knowledge of English language, and they have a long tradition in valuing the European education.
Further information
Jari Olli
Head of School of Smart and Clean Solutions
Metropolia University of Applied Sciences
jari.olli [at] metropolia.fi
p. +358 40 179 8949
Release by
Sirpa Rutanen
Metropolia UAS Communications and Marketing
Read about
School of Smart and Clean Solutions