The Finnish game industry professionals chose Bit1 2019 winners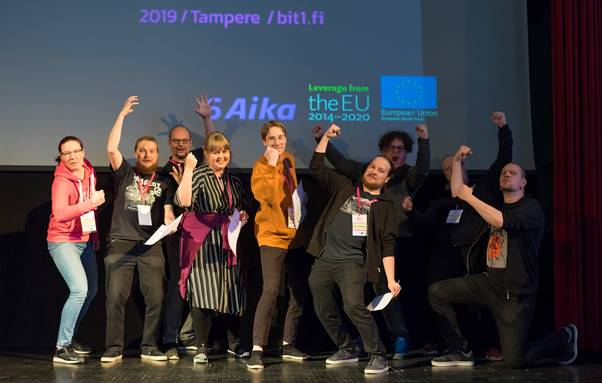 The best Finnish student game was chosen in Bit1 Game Awards in Tampere at 7.-8.5. The 12 finalist teams had been selected from regional PreBits arranged in Helsinki, Tampere and Turku. Oulu region didn't have PreBits this year, but they had three teams to send to the finals. During Bit1, the judges gave notions on the team work, game development level and pitching.
Bit1 Jury was five top names from the Finnish Game Industry: Kalle Kaivola (partner, Sisu Game Ventures), Mariina Hallikainen (CEO, Colossal Order), Juha Huhtakallio (General Manager, Game publisher and Funder, PlayStack Finland), Antti Ikäläinen (Operations Manager, Traplight) and Teemu Närhi (CEO, Fingersoft)
Bit1 2019 was the second edition of the best Finnish student game event. In judges' opinion the competition is useful from both industry's and student's sides. As Antti Ikäläinen put it: "Event is showcasing student talent, also imitating the real world, Bit1 has impact on the industry - it is a valuable experience to attend competitions." Also competitors felt that the participation and given feedback was valuable to them. Many said to be positively surprised by the quality of the event.
Winner team of Bit1 2019 was a student team from Tampere, Sockman with the game Sockman. The Second place and the Audience Choice Award went also to Tampere: Wheel, Snipe & Celly: Puck Buddies. The Third place, from Helsinki: Erden: Erden. Jury's thoughts about the winner: "The game controls felt really nice and responsive and so did the team with given feedback. We valued that. We liked the story, the background setting. We also felt that the team works well together."
The Bit1 2019 winners got prizes sponsored by Games Factory Talents and Chips for Game Skills -project: travel stipends and tickets to Finnish Game Day and White Nights Conference in St. Petersburg in mid-June. Also the winner was invited to PlayStack's publishing meeting to their office in Helsinki.
--
Bit1 is part of the Chips for Game Skills -project, funded by European Social Fund & 6Aika.
More information about the event https://www.bit1.fi
More information about the project https://pelimerkit.metropolia.fi/en/