Metropolia UAS and Helsinki region have all the building blocks to build a thriving ecosystem for urban food production and technology for Finnish and international market.
Metropolia UAS will be an internationally recognized player in urban farming with its research, development, innovation and education (RDI&E) activities.
Metropolia is currently working in close co-operation with research institutes and other key-players in the field. Urbanfarmlab activities support Metropolia´s strategy to create and promote Clean and Sustainable Solutions and develop new knowledge in the field by its multidisciplinary approach as part of its RDI&E activities.
Outcomes of Metropolia Urbanfarmlab activities
Piloting, testing and prototyping new solutions in the ecosystem environment with circular economy and ecosystem modelling aspects
Generating new commercialized urban food technologies and solutions via new startups
Generating new business models
Generating and supporting new urban farming startups
Sharing information and eliminating prejudices around urban farming
Raising awareness and general know-how about the methods
Raising awareness about obstacles and enablers
Creating new urban food based public-private partnerships
Increasing related project portfolio
Developing and delivering training and education solutions around urban farming
Raising the interest of venture capitalists towards urban farming start-ups and growth companies
Increasing public and private funding activities around Metropolia-linked startups, growth ventures and RDI projects
Studying and sharing information for all members of the value chain about urban farming market needs and potential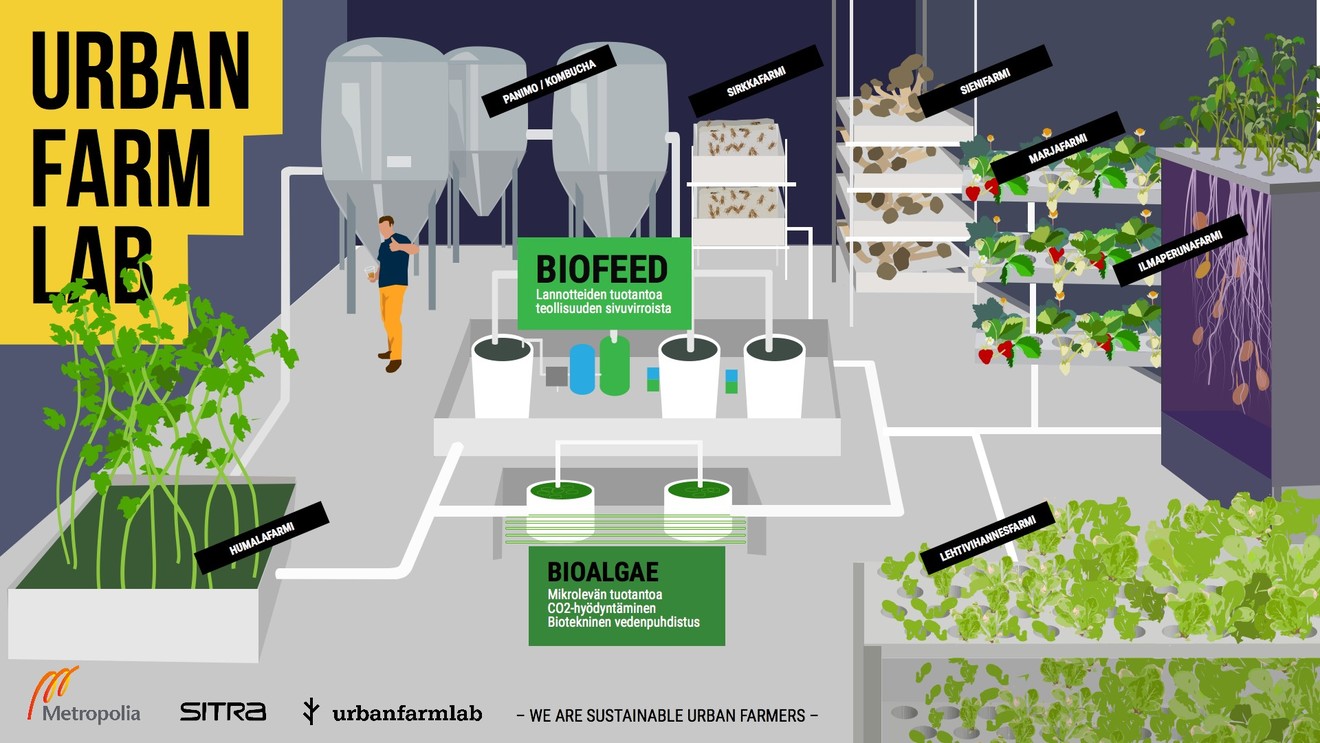 Urban Farm Lab is functioning as urban farming development platform
Metropolia Urban Farm Lab is a separate co-learning space for experts, companies and students utilizing the expertise, facilities and laboratories of the local at Myyrmäki campus and other campuses of Metropolia UAS. Urban Farm Lab consists of show-room and co-working space as well as urban farming ecosystem space. Physical environment is connected with business development activities.
Furthermore, Metropolia connects all five Innovation Hub activities which are
Human oriented well-being and health services
Clean & Sustainable Solutions
Smart Mobility
Functional City for People
Data-driven Construction
to Urban Farm Lab activities and approaches.
In finding solutions for well-being and better human life on earth, questions such as "What makes consumers to choose urban farmed food products?" or What prejudices or misconceptions exist?" will be raised for public discussions. Metropolia will also work with other urban food stakeholders to address potential legislative obstacles.
The proactive learning approach in education of Metropolia UAS changes learning, research and innovation speed in a significant way.
"Urban Farm Lab -concept and platform is a great opportunity for any company", says Henri Laine, the CEO of Redono Oy. "Here we can implement and demonstrate the circular economy model of a sustainable brewery and a new kind of food production ecosystem in the urban environment. We are also able to promote sustainable farming techniques in concrete terms".
The Finnish National Fund Sitra and Metropolia are funding the building up and piloting phase of the Urban Farm Lab ecosystem between 1.1. - 31.10.2019.
Contact
Senior Lecturer Kaj Lindedalh
See Kaj's profile in PeopleFinder