Metropolia's brand-new Myllypuro Campus in Helsinki is open to life and new encounters. The campus brings together people-focused expertise where well-being, built environment and healthy future are developed together.
The new campus is built partly on top of the metro for 6000 students and 500 employees. The Campus for Builders of Well-being is the largest of Metropolia's four campuses.
Myllypuro Campus creates an open network and environment for learning and innovation boosting area's vitality.
Degree Programmes and Services
Services in Myllypuro Campus
Transport connections
Myllypuro Campus is conveniently located in the heart of Myllypuro, next to the metro station and Ring I highway. The Campus is easily accessible by the public transport.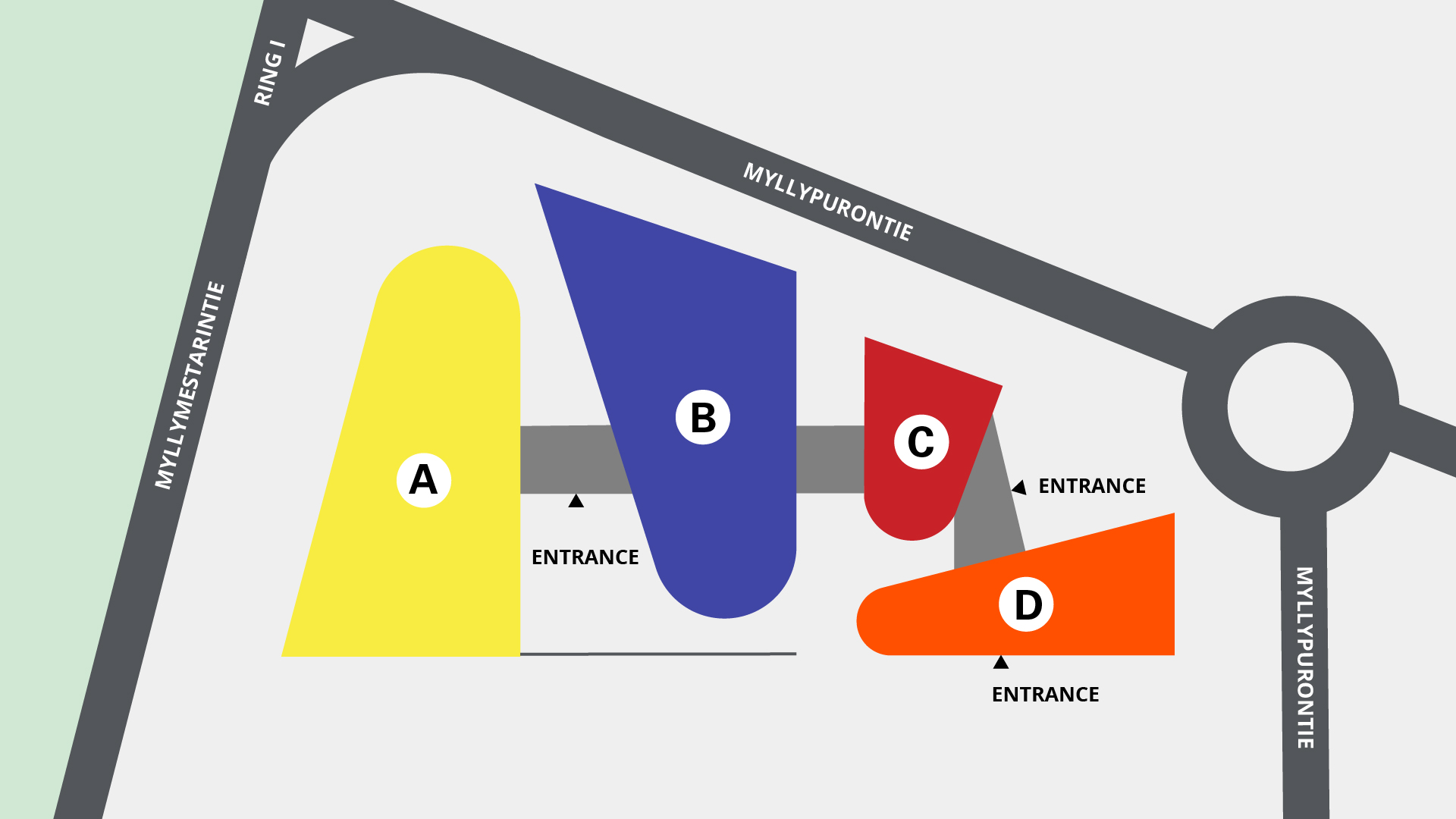 Metro
The campus is located next to the Myllypuro metro station, 16 minutes from the Central Railway Station, and 2 min from Itäkeskus metro station. Choose the exit 'A' called 'Orpaanporras' on the Myllypuro metro station to reach the campus.
Bus
To find bus connections and timetables please use the journey planner. For example the bus number 506 and buses running Ring I highway.
Bicycle
There are a number of places in which you can attach and lock your bicycle on front of the entrance of Myllypuro Campus Building A.
Parking
Free parking places are available for 2 or 4 hours on the roadsides of the nearby streets.
Paid car parks are located behind Liikuntamylly Sports Center and under the shopping center Myllypuron ostari Q-Park.
Two disabled parking places are located in Liikuntamylly Sports Center car park, which is situated between Liikuntamylly and Ring I highway.
Other
Animals are not allowed on the campus.
Map
Construction project
The first part of the new campus was opened in January 2019 with 3000 students and 250 employees. The second phase of the campus, buildings B, C and D, are finalized, and opened in January 2020.
The foundation stone of the campus was laid in September 2016. The construction was delivered by YIT Oyj.
Facts
41 000 htm2, 56 000 brm2
Construction company: Kiinteistö Oy Myllypuron kampus, City of Helsinki
Estimate 165 M€
Completed in two phases: Nov 2018 and Oct 2019
Lead Designer Rainer Mahlamäki
Architect firms: Lahdelma & Mahlamäki Architects and Arkkitehtitoimisto Lehto Peltonen Valkama Oy
For further information
Mr. Simo Hoikkala
Project Director
tel. +358 50 366 0545
simo.hoikkala [at] metropolia.fi