Metropolia's Myyrmäki campus in Vantaa is where Industrial Technology meets International Business.
The campus is a multicultural hub where people work in close collaboration with companies, at the forefront of sustainable development.
Degree Programmes and Services
Business Administration
Tuition in English
Tuition in Finnish
Technology
Tuition in English
Environmental Engineering, BEng.
Tuition in Finnish
Chemical Engineering, BEng.
Electrical and Automation Engineering, BEng.
Electrical and Automation Engineering, MEng.
Energy and Environmental Technology, BEng.
Services in Myyrmäki Campus
Transport connections
Myyrmäki Campus is located at the most populous district in Vantaa, near railway and bus station and to Myyrmanni, a large shopping complex. The Campus is easily accessible by the public transport.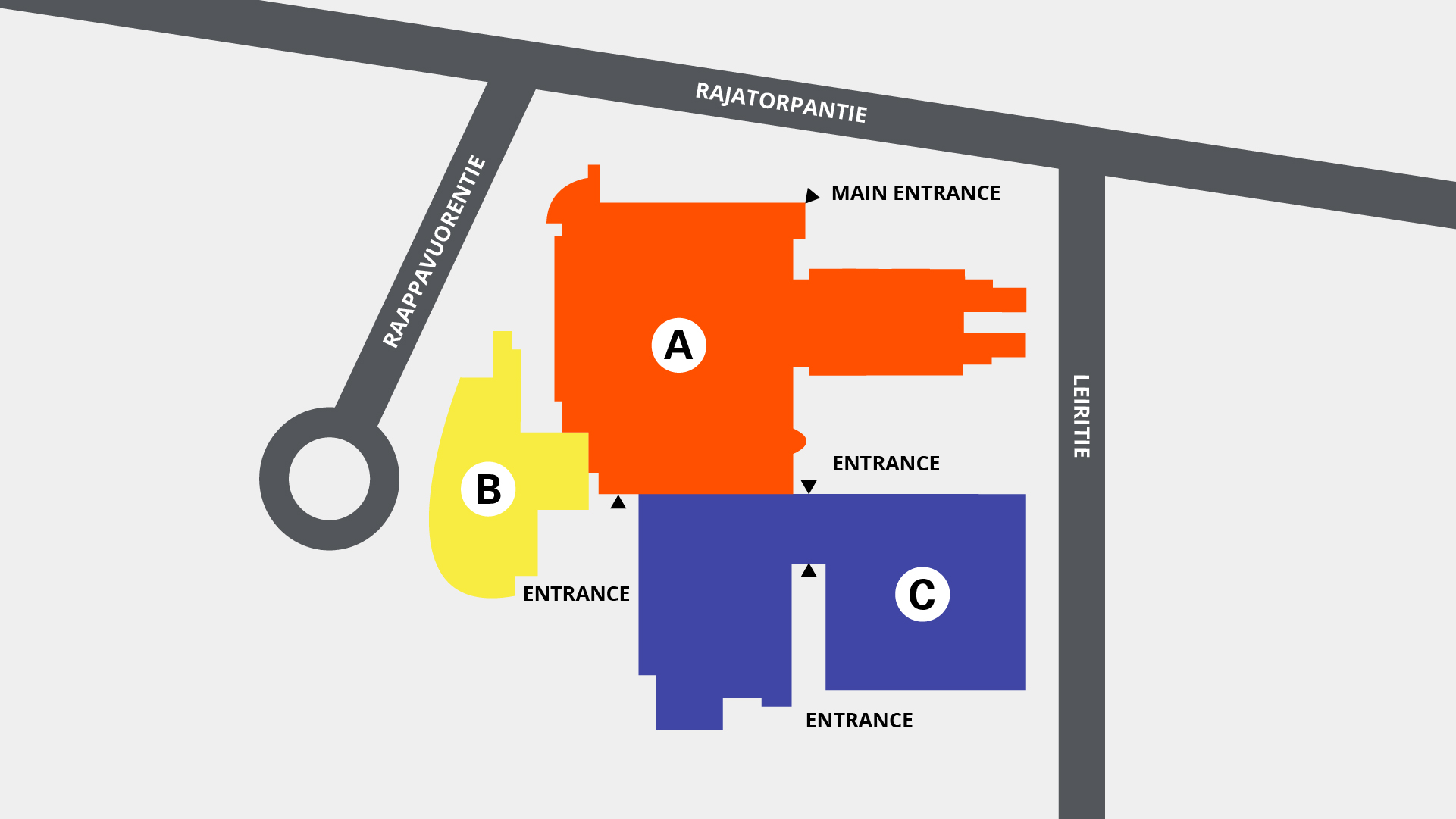 Train
The area is served by Myyrmäki railway station and the Ring Rail Line network. I and P trains serve all stations along the line. I trains run counter clockwise (Helsinki-Tikkurila-Airport-Myyrmäki-Helsinki) and P trains clockwise (Helsinki-Myyrmäki-Airport-Tikkurila-Helsinki). The trains run every ten minutes Monday to Friday and Saturdays.
To find train connections and timetables please use the journey planner.
Bus
Myyrmäki serves as hub for public bus services in Vantaa with good connections to the cities of Helsinki and Espoo as well as to other areas of Vantaa.

To find bus connections and timetables please use the journey planner.
Bicycle
There are a number of places in which you can attach and lock your bicycle on front of the entrance of Myyrmäki Campus. 
Parking
Free car parking places are available for 4 hours next to Energia Areena. There are also dedicated parking places for Metropolia near the Sports Center Fressi (do not use Fressi's own places). Staff members have their own dedicated parking at the campus. 
Two disabled parking places are located in front of the main entrance. There are two other disabled parking places at the staff parking area. 
Other
Animals are not allowed on the campus. 
Map
Extension 
The number of students and the size of the campus were doubled in August 2018, when the extension of the campus was finalized. The first part of the campus, Building A, was built in 1988 and Building B in 2002.
There are now 3500 students and 230 staff members operating on the campus in the fields of Industrial Technologies and International Business.
First piles of the extension of the Myyrmäki Campus were driven in April, 2016, and the building phase started in September 2016.
A four-storey new building is located on a former parking lot of the older part of the campus, and is integrated to the buildings A and B, which were in use throughout the construction phase of the extension.
The new building includes various technical facilities used by Automotive, Mechanical, Electrical and Automation Engineering Degree Programmes. The campus restaurant and the library are located in the new part of the campus to meet the increasing demand.
Facts 
Extension of 12 000 htm2
Construction company: VTK Kiinteistöt Oy
Head Designer Kirsti Sivén, Kirsti Sivén & Asko Takala Arkkitehdit Oy
Estimate noin 35 M€
Building 2016-2018
Completed in August 2018
More info
Mr. Simo Hoikkala
Project Director
tel. +358 50 366 0545 
simo.hoikkala [at] metropolia.fi