MINNO® Innovation project means a collaborative team project that solves authentic problems by innovating a novel, practical and concrete solution.
Every undergraduate takes part in a 10 ECTS innovation project
One project consists of 270 hours of development work and learning per student, normally 4–7 students/team
The challenges arise from labour market needs and surrounding society
Students, lecturers and tutors from various fields of study cooperate with organisations to create new solutions
The outcome will not be determined in advance: new solutions will be found during the process for the benefit of businesses and customers
From innovation to entrepreneurship and intrapreneurship
Entrepreneurship is important, but before it is advisable to start a business, you need a distinguishable service, product or a new way of doing something. This is why we have chosen innovation processes as the learning platform – to help our students find new opportunities proactively through cooperation.
Innovation is not only important in technical fields, but also in wellbeing, culture, business and healthcare. Social innovations are nowadays important. To develop, society needs smart solutions and new kinds of processes. Intrapreneurship is also important: organisations need proactive, independent, cooperative and enthusiastic developers in all organisational levels to solve today's difficult problems. This is why Metropolia decided in 2007 that all students should participate in an innovation project.
Metropolia is an energising partner - innovate with our students!
Energise your company by partnering with Metropolia. We are looking for partners for our students all the time! If your company has a challenge that needs solving, we are interested in partnering with you.
As a working life partner you:
Give an open challenge to the students
Work with students and give them feedback. Not
too time consuming!
Let us energise you and your work!
Multidisciplinary MINNO® - Join us in a fascinating journey to the intersection: a place where ideas and concepts from diverse industries, cultures, departments and disciplines collide, ultimately igniting an explosion of ideas leading to extraordinary innovations. Breakthroughs often occur when we bring concepts from one field into new, unfamiliar territory.
Multidisciplinary innovation process example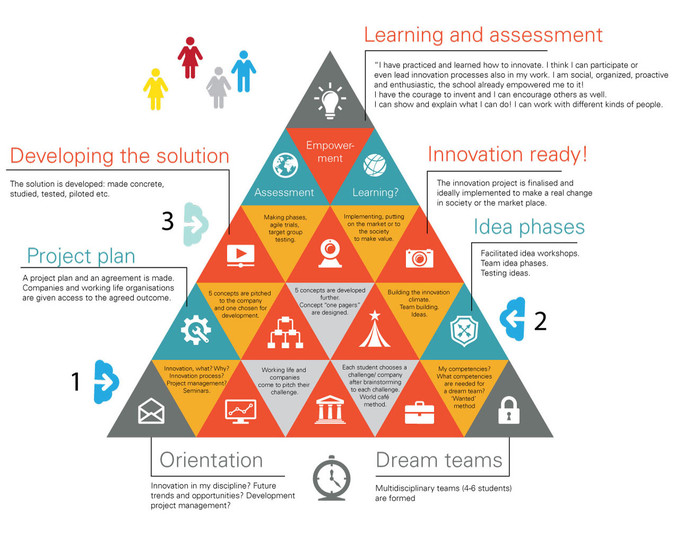 Innovation project outcomes
How to help children to experience a more enjoyable hospital visit with new technology?Physiotherapy Microsoft Xbox Kinect game for the New Children's hospital.
How to make the elderly and children to meet?
A functional outdoor area as a meeting place for different generations. In cooperation with the City of Helsinki's Kustaankartano centre for the elderly.
How to boost future thinking in big companies?
Co-creating the future - table system.
How to enhance cycling in the city?
DIY cycling repair services in old kiosks in Helsinki.
How to improve the hospital environment?
New interior design of cancer clinic entrance hall.
How to go about drug education in a new way?
Computer games that educate people about substance abuse, for example Addiction Islands. In cooperation with the Finnish Association for Substance Abuse Prevention.
A guide dog's rewarding device for persons with disabilities.
Ambulance simulator for a safe way to learn how to provide emergency care. Automation Engineering, Mechanical Engineering and Emergency Care students created an ambulance simulator for emergency care teaching purposes.
A mobile phone alert for blood donors informing them of the next opportunity to donate blood. Ordered by the Blood Service of the Finnish Red Cross.
Testimonials - Fresh thinking, energising partnering and concrete results
"Metropolia's students brought new ideas and viewpoints to the challenge we gave them. We would have never ourselves come up with such fresh solutions and interpretations. I warmly recommend companies to give their challenges to be solved by Metropolia's students. This kind of cooperation is very useful and we learned a lot."
– Innovation Manager Juha Lappalainen, AbbVie Oy
"We used innovation projects to find new services and concepts. It is important to think how operating practices could be changed to create added value. Good technical quality is not enough, you also need encounters and interaction. Our cooperation has been excellent and of a new type in a multidisciplinary innovation project."
– Director of Social and Health Services Juha Metso, City of Espoo
"The innovation process with Metropolia students and teachers was truly energising."
– Mobile Sensei, Planner Peter Green, Mobile Sensing Ltd.
"Innovation projects can, at their best, lead to very useful and practical results. We experienced
that with students who created a concept for us for our first blood donor mobile app. The idea was then developed with our professional partner to launch a real product."
– Director, Communications and Human Resources, Willy Toiviainen Finnish Red Cross Blood Service
"Our challenge for Metropolia was to prepare some short videos about our solutions. The team handled the tight schedule and produced videos that we are proud of."
– Product Manager Harri Taskinen, Anygraaf Oy
"The multidisciplinary groups had great ideas, I was impressed that people specialising in culture, wellbeing and technology were able to come up with solutions together efficiently although they had never met before. The teachers really knew how to facilitate innovation."
– Technical Evangelist Mikko Kasanen, Microsoft.
"The students took the needs of our daycare centre into account very well, and cooperation was very smooth. It has been great to see how fantastic and innovative ideas are created when you combine enthusiasm with expertise from various fields. It was rewarding to work with you. Great synergy!"
– Head of daycare centre Arabianhelmi Marjukka Nieminen Sisupäiväkodit Oy
"Tutoring multidisciplinary teams has been really energizing! It is a joint learning process to all stakeholders. Discovering novel solutions offers a versatile learning environment like no other in universities."
– Senior Lecturer Laura-Maija Hero, Cultural Management, Metropolia UAS
"The innovation project was extremely rewarding, with good team spirit playing an important role. The innovation project provided us with concrete results, which may well lead into a real game. Will Rehaboo! by the Helsinki Hooligans eventually be seen at the new Children's Hospital? Did we inadvertently enter the gaming business? Who knows?"
– Cultural Management Student Sonja Linkoneva, Metropolia UAS
"I found the innovation project much more positive than I originally anticipated. The extent and potential of the project did not become clear to me until during the project. This project will also provide the topic for my final project, and I can continue to work as a member of a fantastic
team!"
– Social Services Student Jukka Naskali, Metropolia UAS