Essilor and Metropolia University of Applied Sciences makes their partnership official with a working life cooperation agreement
14.3.2022 - 13:30
Essilor, the world's leading ophthalmic optics company, and Metropolia University of Applied Sciences are strengthening their partnership with an agreement signed on March 10, 2022.
The aim of the cooperation is to promote the strategic goals of both parties and to share the expertise of the partners. The aim is to support the development of the activities of Essilor's and Metropolia's innovation platforms and learning environments through theses, innovation projects and project and research cooperation.
Essilor is an optical company that provides high-quality eye care research equipment to professionals in the field, designs manufactures, and sells spectacle lens solutions for eye correction. The product range of spectacle lenses is wide and comprehensive. Lens solutions aim to meet the needs of the consumer from the point of view of both vision correction and eye protection. Essilor offers the consumer high-quality vision solutions that are tailored to the customer's needs.
"Essilor has traditionally been a pioneer in the field of lens technology and grinding equipment and also emerged as a major player as a developer and manufacturer of vision technology devices. "As our vision is in the future, it is natural to be involved in supporting the growth of students into eye care professionals", says Instrument Manager Jouni Pekkanen from Essilor.
The co-operation agreement formalises the co-operation that has already begun. The Village OPTIKKO store, which opened on Metropolia's Myllypuro campus in the autumn of 2021, uses Essilor's state-of-the-art equipment, ie the latest technology for vision examination and sizing and grinding of spectacle lenses. Village Optician is an optician's shop open to all, led by optometry students, which offers comprehensive eye care services and a wide range of spectacle lenses and frames. A licensed optician directs student activities.
"It's really great that Essilor has set out to be so generous in supporting the construction and operation of a new learning environment. The Village Optician -store allows students to practice the skills they have learned at school during their studies in a safe environment that is very close to a genuine and real working environment. Even in challenging situations, students gain hands-on experience that is useful in working life. The Village optician acts as a bridge for the integration of the skills learned at school into working life. This is where the experts of the future will graduate", says Kajsa Sten, Lecturer in Optometry at Metropolia.
On a practical level, Jouni Pekkanen from Essilor and Kajsa Sten from Metropolia coordinate the co-operation.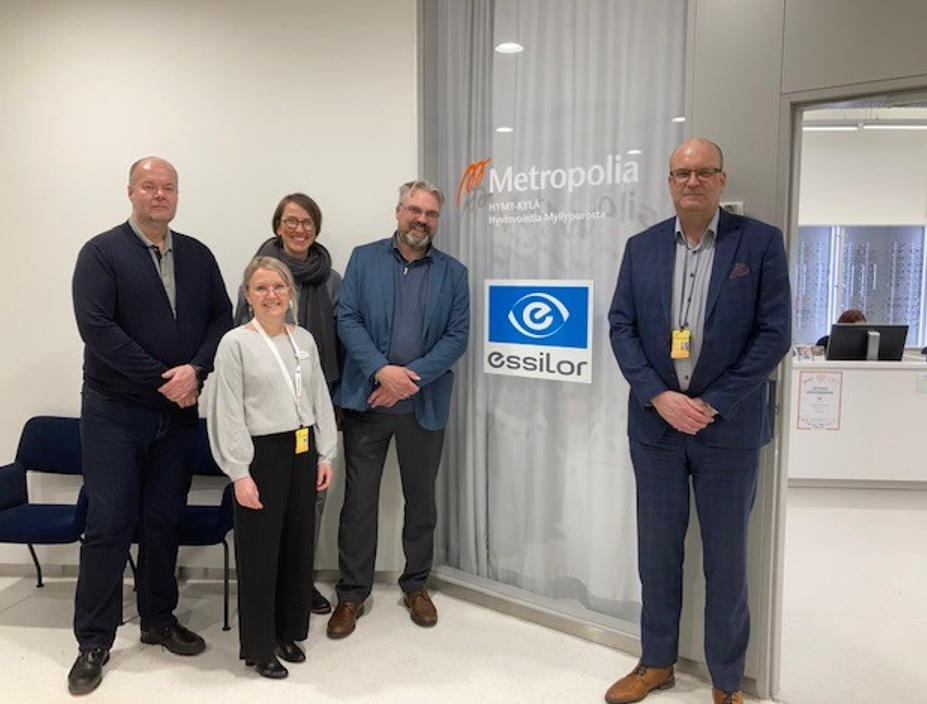 More Information
Kajsa Sten
Lecturer in Optometry
Metropolia UAS
kajsa.sten [at] metropolia.fi
p. 040 714 5150
Jouni Pekkanen
Instrument Manager
Essilor Oy
jouni.pekkanen [at] essilor.fi  
p. 040 519 7116