Klaveness Footwear and Metropolia formalize their partnership with a working life cooperation agreement
10.6.2022 - 14:00
Klaveness Footwear Oy and Metropolia University of Applied Sciences have signed a co-operation agreement on June 1, 2022. The aim of the co-operation is to strengthen the both parties' strategic goals, for example through theses, research and development projects and other co-operation projects, as well as competence development. The collaboration strengthens the skills of Metropolia's wellbeing students and increases Klaveness's visibility among students.
Klaveness is a family business with operations in several countries. The company offers high-quality and custom-made footwear, such as comfort and medical footwear suitable for everyday use for diabetics. Klaveness' product development is a seamless collaboration between designers and footwear experts, which aims to combine aesthetics and the desired properties of footwear.
"The co-operation is important to us and opens up the possibility of utilizing Metropolia's network and services, and especially supporting our own product development with research and development projects. Metropolia has invested a lot in new technologies, which in turn enables us to manufacture prototypes and test technology. We are also able to bring our own practical know-how into teaching, which helps students in working life and challenges us to think about things from the perspective of future professionals in the field. We are looking forward to this co-operation and it would be great if we could one day have guests from Finland visit our factory", says Timo Takkinen, CEO of Klaveness Footwear Oy.
The co-operation supports the education of Metropolia's wellbeing students. Klaveness, for example, provides education for its products and technologies for Prosthetics and Orthotics, Podiatry and Physiotherapy students. Metropolia receives custom-made special footwear from Klaveness for educational use.
The agreement enables diverse cooperation in wellbeing education and research and development projects. Klaveness can provide topics and support to thesis authors. Metropolia and Klaveness aim to create new innovations in research and development co-operation.
"The co-operation enables enrichment and development of teaching with a strong international multidisciplinary and expert organization of special footwear. We see a lot of different opportunities for cooperation that are mutually beneficial", says Toni Nisula, Senior Lecturer of Rehabilitation.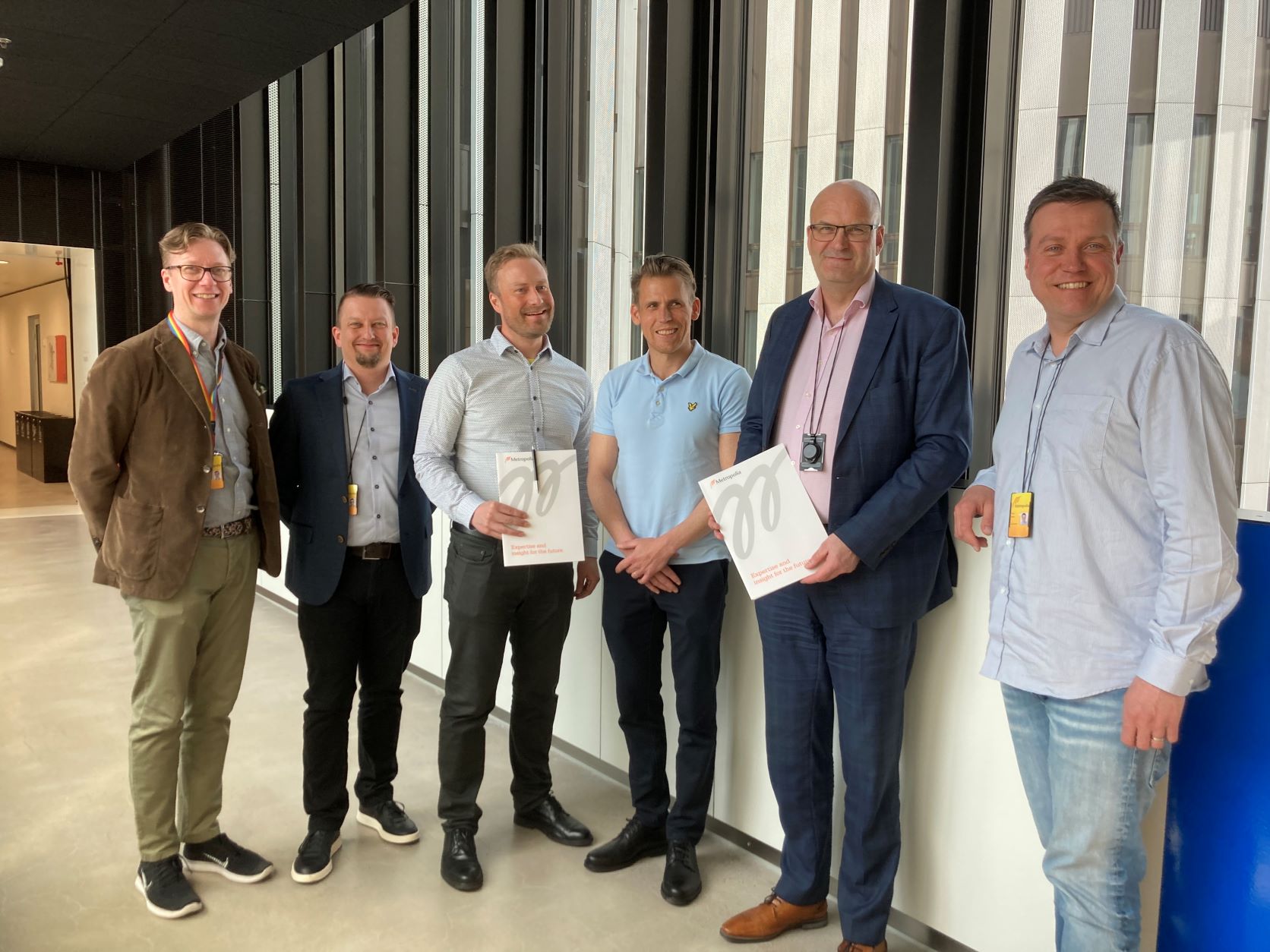 Pictured from left: Matti Kantola and Pekka Anttila from Metropolia, Timo Takkinen and Kristian Klaveness from Klaveness, Simo Mustila and Toni Nisula from Metropolia
More information:
Toni Nisula
Senior Lecturer, Rehabilitation
Metropolia University of Applied Sciences
Toni.Nisula [at] metropolia.fi
Timo Takkinen
Managing director
Klaveness Footwear Oy
timo.takkinen [at] klaveness.fi