Metropolia strengthens international collaboration by joining EURASHE
23.3.2023 - 12:00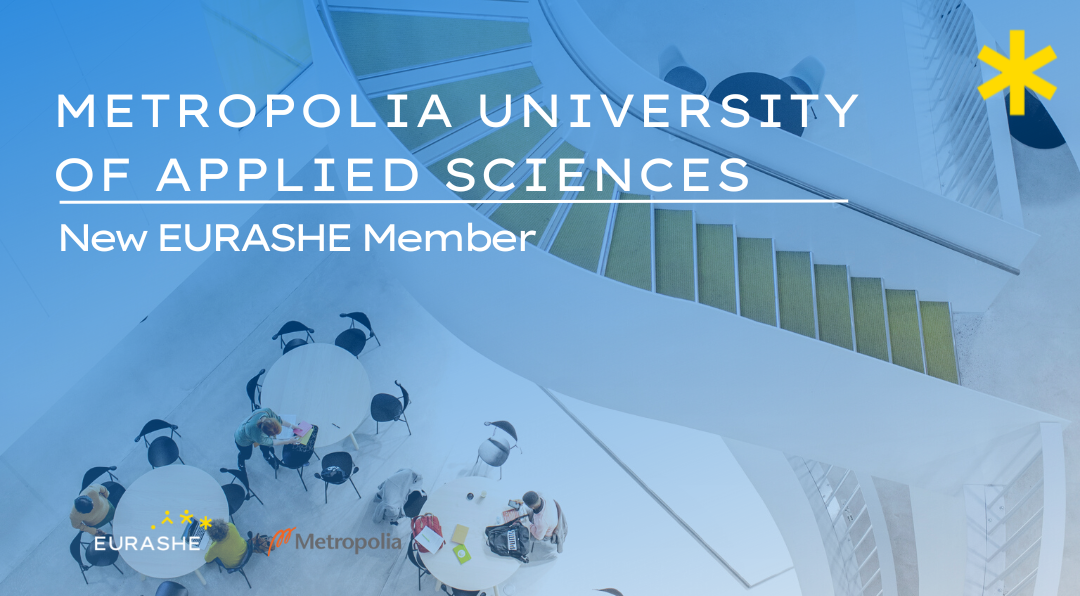 Metropolia University of Applied Sciences has become a full member of EURASHE, the European Association of Institutions in Higher education, since February 2023.
Through EURASHE membership Metropolia contributes to strengthening the impact of innovative, high-quality professional higher education and applied research excellence in Europe.
EURASHE is engaged in the development of policies on key issues for Professional Higher Education (PHE). Its 2023-2025 strategy aims to harness the power of PHE for the green and digital transitions, including through five thematic priorities: Skills and talent for the present and future, Quality assured, innovative institutions, Demand led and challenge-based research, Local and regional impact, and Europeanisation and internationalization.
EURASHE represents more than 600 Higher Education Institutions that deliver professionally orientated programmes and conduct applied research. The membership connects Metropolia's voice, messages and expertise about the development and transformation of European society through professional higher education with the network for greater impact.
"EURASHE represents European expertise in professional higher education. The network offers an excellent opportunity for Metropolia to learn from its European peers to further develop its education and research, development and innovation practices and partnerships and as to promote transnational cooperation as well as develop new innovative projects", says Riitta Konkola, CEO, President of Metropolia.
The EURASHE President, Prof. Armando Pires remarked that "Metropolia will provide immense experience and inspiration from Finland, including in the areas of research and innovation, sustainability and urban development. We warmly welcome the institution into EURASHE".
Metropolia will participate in 32nd EURASHE Annual Conference on 8-9 June 2023, Bucharest, Romania, including in the panel on applied research, in a breakout session on skills for renewable energies, and will attend the 'European Universities Townhall'. Metropolia also joined the EURASHE Research Community of Practice as a member of its core group, and is in the process of joining the Communities on Quality Assurance and Skills. This will facilitate frequent and intense collaboration with EURASHE.
Metropolia in numerous networks and partnerships
Metropolia is part of numerous networks and partnerships with both European and international higher education institutions and other actors. Metropolia recently submitted a proposal to coordinate a European University Network of six urban-focused Universities of Applied Sciences, U!REKA SHIFT. It builds on enhanced cooperation among the institutions since 2016, and has a vision to create a profound shift towards climate neutral and eventually climate positive societies. EURASHE is one of 30 associated partners in this European University Alliance proposal.
As Finland's largest university of applied sciences and nationally and internationally well-connected higher education institute, Metropolia can offer a great amount of expertise to develop European professional higher education.
"We advocate for new ways to learn, produce innovative solutions and engage in multidisciplinary collaboration on significant social and global phenomena. In our daily activities in Metropolia's innovation hubs, we operate on an ecosystem basis; solutions are created together with different partners through bold thinking and collaborative learning. People are at the core of our thinking; with new solutions, we build well-being and a sustainable future for people and for the environment", says Mona Roman, Innovation Director of Metropolia.
More information
Mona Roman
Innovation Director, Metropolia University of Applied Sciences
mona.roman [at] metropolia.fi (mona[dot]roman[at]metropolia[dot]fi)
Read more on EURASHE website: Metropolia UAS, New EURASHE member
Further information about EURASHE can be found on eurashe.eu.