Metropolia's students created digital art works for Beijing Design Week
4.10.2021 - 14:45
This year, Helsinki is the guest city of Beijing Design Week. The largest and most significant design festival in Asia is currently taking place from September 18 to October 7, 2021. The ensemble implemented by the City of Helsinki for the festival is called Helsinki Designing Better Life and it is divided into sub-themes of education and urban development.
Metropolia organized a Digital Art Challenge competition for design students as part of the program. The task of the challenge was to work on a digital work of art that embodies the best aspects of Helsinki. The target group for the artwork is international students and the objective is to raise interest towards Helsinki as a future study or workplace. The jury included Heidi Forss-Anila and Karoliina Helkkula from the City of Helsinki, and Auli Sillanpää, Santeri Saarinen and Tuomo Äijälä from Metropolia.
The first prize of the Digital Art Challenge (€ 2,000) was split between two entries
Movements: Veli-Matti Järvelä, Degree Program in Design, XR Design
Helsinki Co-created: Minna Däpp and Anne Varonen, Degree Program in Design, Visual Communication Design
All works of art of the competition will be displayed during the festival in the Helsinki Virtual Pavilion event gallery. The virtual pavilion has been implemented by 3D animation and visualization student Anniina Lehikoinen as part of the Helsinki XR Center team. The pavilion is on the Mozilla Hubs platform and is inspired by the Helsinki installation in Beijing. In the event gallery, people move and communicate with the help of virtual characters, avatars. You can visit the virtual pavilion here.  
Additional information
Merja Kosonen
Senior Lecturer, Head of Degree Program
merja.kosonen [at] metropolia.fi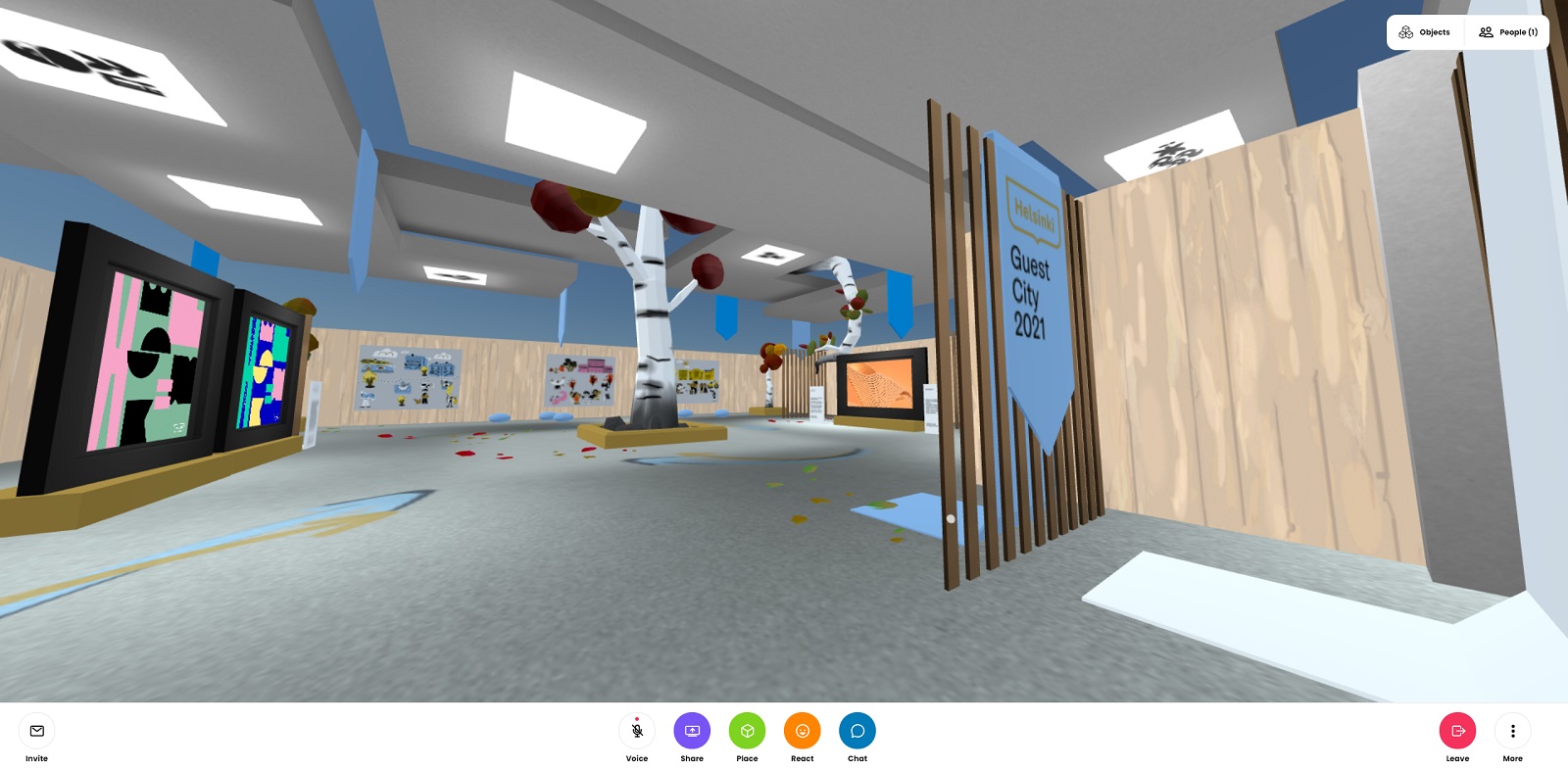 Snapshot from Helsinki Virtual Pavilion. Photo: Santeri Saarinen.