Students Innovate New Business Models in 10 Days
11.6.2021 - 14:20
The 10 Days 100 Challenges is a unique ten days lasting open innovation study program, where students learn new working life skills and solve challenges together with leading innovative companies, professional experts and inspiring coaches. The program is open for everyone who wants to earn credits for their curriculum, find a meaningful activity for the summer or is looking to connect with talented individuals and build professional networks. 10 Days 100 Challenges is organised by three Helsinki Metropolitan area Universities of Applied Sciences: Haaga-Helia, Laurea and Metropolia.
Metropolia coordinated the implementation of 10 Days 100 Challenges this year, together with a team of Laurea and Haaga-Helia personnel and coaching support from the Student Entrepreneurship Societies. The program was conducted entirely web-based.
A variety of challenges from three partners
In 2021, the 10 Days 100 Challenges had eleven multi-disciplinary student teams from Metropolia, Haaga-Helia and Laurea tackling the challenges from three organisations. The umbrella theme was "New business models in changing environments – new activities utilising the existing." Partnering companies were Lidl Suomi, the City of Vantaa and Bloft Design Lab.
Lidl Suomi challenged the teams to support their Human Resources to understand, what kind of feedback culture does Generation Z wish for in their work life. What amount of feedback is enough and in which ways should the feedback be given? The retail industry offers a first job experience for many young people, and it is very common for students to work part-time at Lidl stores while completing their studies. A big part of our store managers represent an older generation, so it is vital to learn how to train the store managers to give feedback according to Generation Z's wishes?
The city of Vantaa has established a food cluster in 2019 to support local companies and to promote the vision to become the Urban food capital by 2025. However, the pandemic has closed restaurants and forced producers and shops to invent new ways of making business. We want these new products and initiatives to be easily accessible to all citizens of Vantaa and travellers, too – first from the nearby areas but also later for international tourists visiting the Helsinki-Vantaa airport. The city of Vantaa challenged the teams to help to support the food-related companies.
Bloft Design lab, established by Metropolia's design alumni and students, is the developer of the largest 3D printer capable of processing waste plastic that aims to be the global leader in distributed recycling by additive manufacturing, offering both machines and an on-demand market platform. In their vision, they spark a change in manufacturing and logistics with a globally distributed local manufacturing network and a marketplace that brings customers, product designers and local manufactures together. Physical goods, digitally designed, sold and delivered – locally manufactured. Bloft Design lab challenged the teams to find radical solutions to their growth challenges.
Fresh ideas from multi-disciplinary student teams
The participating students formed altogether 11 teams to answer the challenges in just two weeks or 10 working days. Teams' innovation processes included collecting survey data, calculating finances, designing services, and finalizing the suggestions into a 5-minute pitch.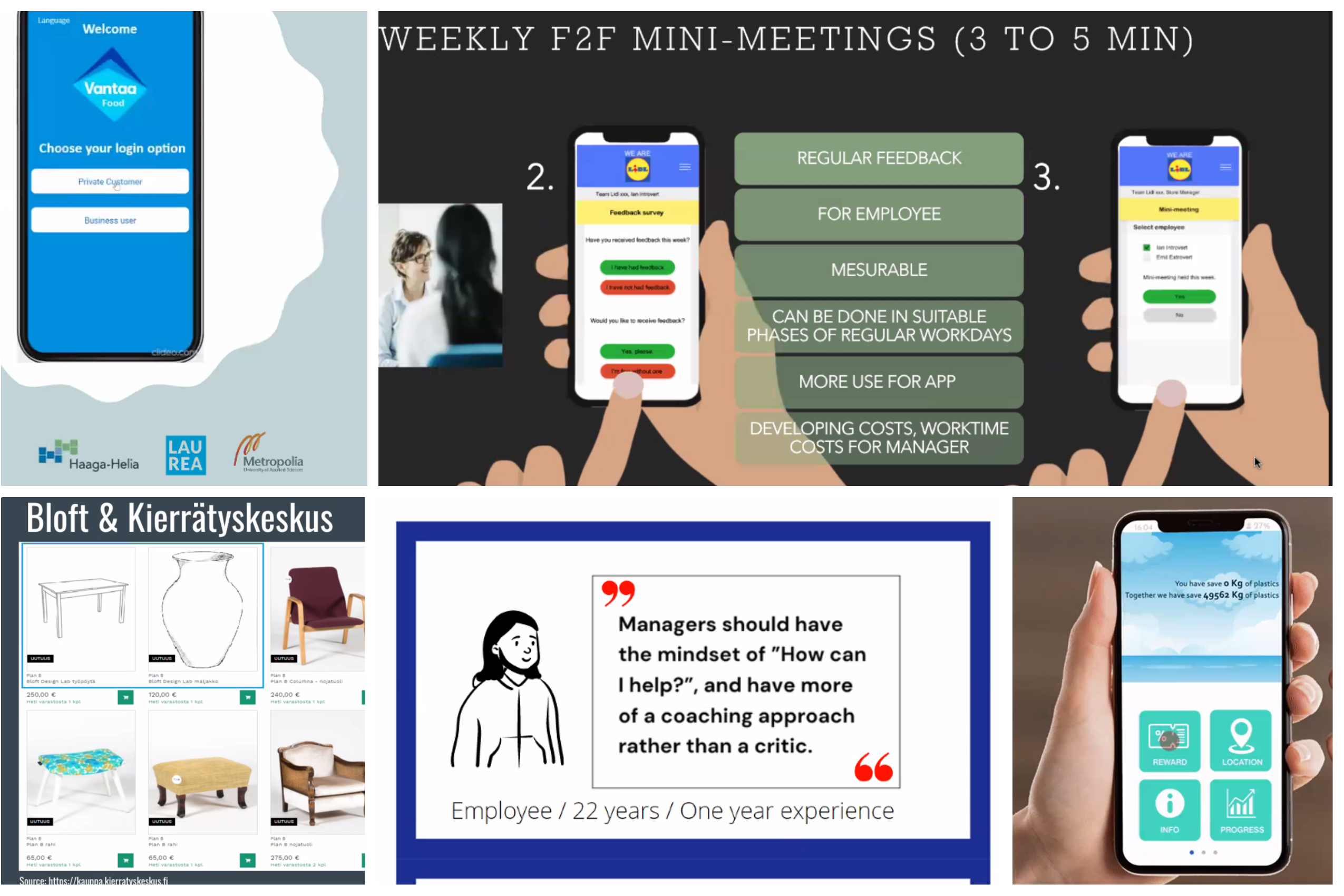 The innovations based both on physical and digital solutions. For instance, to the City of Vantaa's Food Cluster challenge, students suggested establishing a physical Farmer's Market, pop-up and restaurant space, or an app for consumers to find easily the goods and services. As an example, Vantaa Food -application demo is found live online (justinmind.com).
In their pitches student teams point out they have found Bloft Design lab's concept of using recycled plastics for 3D printing raw material unique in the Finnish 3D printing markets. Teams suggested making recycling easier for consumers by localizing plastic collection bins around the city, or rewarding and digitalizing the plastic recycling efforts with a loyal customer program used via an application, or collaborating in 3D design product sales with other recycled goods online shops.
For Lidl Suomi's challenge in giving feedback to generation Z employees, the student teams presented some fresh viewpoints on the working culture, especially the need for managers to have rather a coaching than critical approach. Also, the teams felt that building the team spirit would benefit from the possibility to show mutual appreciation not only between the management and employees but also between peers. All teams brought up the need for receiving regular feedback face-to-face, supported by applications allowing the employee to leave feedback to the management and overall to follow the progress.
EU funding supported the emergence of 10 Days 100 Challenges
The origins of 10 Days 100 Challenges lie in a Metropolia-coordinated, EU-funded project from 2017. Since then, three implementations with hundreds of participating students have been conducted. In 2018 and 2019 program was organised in situ at Aalto university premises. In 2020 the program was cancelled due to the pandemic.
The Handbook to describe the core concept and key components of the 10 days 100 challenges was published in 2018. It is for those interested to organize a similar open innovation event for a varied group of participants, students and professionals alike. The manual provides both general and specific guidance. Find the Handbook on Theseus.fi.
Contact