Haaga-Helia, Laurea and Metropolia have launched new initiatives to deepen their partnership. The institutions have began developing measures to promote student mobility and entrepreneurship education and help create easy-access programmes for innovation between higher education institutions and SMEs in the Helsinki metropolitan area.
In addition, there are collaboration efforts aimed at leveraging global funding channels for research and other projects more efficiently than before and creating Finland's largest cluster for education exports in the UAS sector. There are currently seven development projects under way.
The partnership draws from each institution's unique educational profile and identity. The Helsinki metropolitan area needs higher education institutions with distinctive profiles that respond to the region's skills needs. To this end, the institutions are focusing on a strategic partnership that will benefit both students and employers.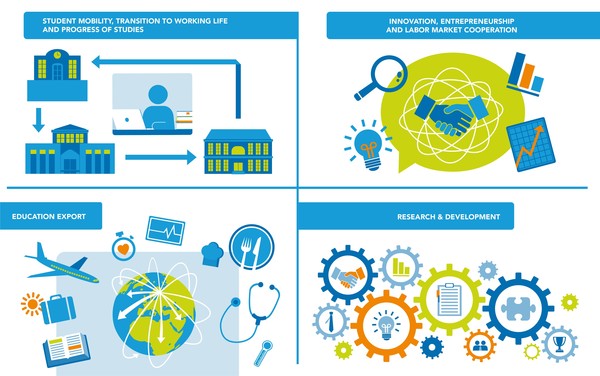 The four development projects are:
Student mobility, transition to working life and progress of studies
Innovation, entrepreneurship and labor market cooperation
Education export EduExellence
Research & Development
Read more on Haaga-Helia - Laurea - Metropolia partnership on 3AMK site
Contact
Antti Vettenranta
Process Director
antti.vettenranta [at] laurea.fi (antti[dot]vettenranta[at]laurea[dot]fi)
Helsinki Metropolitan Universities of Applied Sciences (3AMK)