U!REKA selected by the European Commission to become a European University Alliance
3.7.2023 - 14:00
The Urban Research and Education Knowledge Alliance (U!REKA) is pleased to announce that its U!REKA SHIFT proposal has been selected by the European Commission for funding in the European Universities Initiative (EUI) call 2023. This means that U!REKA will become an official Erasmus+ co-funded European University Alliance, with an expanded partner network and a common vision of climate neutrality and beyond.
In January 2023, U!REKA submitted a bid for the EUI 2023 call, which aims to support ambitious collaboration between networks of institutions and external partners across their local ecosystems. We are delighted to announce that on 3 July, 2023, we were informed by the European Commission that our bid was successful.
'European Universities are transnational alliances that will lead the way towards the universities of the future, promoting European values and identity, and revolutionising the quality and competitiveness of European higher education', according to the EC's website.
The bid, titled U!REKA SHIFT (Sustainable, Human, Inclusive, Future-proof Transition) aims to establish a long-term strategic and structural collaboration to integrate our education and research into a European University with a specific focus to contribute to a sustainable, human, inclusive and future proof transition to Climate-Neutral and Smart Cities. You can find more information on the contents of the bid and our U!REKA SHIFT strategy and mission here.
A total of 65 applications were received, of which 20 have been selected and awarded funding. The application of U!REKA received 88/100 points.
Geleyn Meijer, U!REKA Steering Committee Chair and Rector at the Amsterdam University of Applied Sciences: "I am very excited that our light is also shining in Brussels now and I thank our bid coordinator Mona Roman and her team for their fantastic work".
Mona Roman, Coordinator of U!REKA SHIFT bid and Innovation Director at Metropolia University of Applied Sciences: "I feel honoured and thankful for the great U!REKA collaboration to develop the bid and the excellent review comments we received. These will give us strong bases to deepen U!REKA network into a fully-fledged European University Alliance."
U!REKA's Steering Committee would like to thank all the staff and students from U!REKA partners Amsterdam University of Applied Sciences; Edinburgh Napier University; Frankfurt University of Applied Sciences; HOGENT; Metropolia University of Applied Sciences; Politecnico de Lisboa; and VSB Technical University of Ostrava; as well as our 24 associated partners, for their contributions to the bid writing process, and for making this successful leap together towards a bright future for the U!REKA network.
Information will follow on the next steps for the U!REKA SHIFT European University Alliance after the summer break.
About U!REKA
The Urban Research and Education Knowledge Alliance (U!REKA) is a consortium of six European universities of applied sciences (full partners) and 24 associated partners. We collaborate in education and research activities to educate, shape and empower the European professionals of tomorrow.
Full partners:
Amsterdam University of Applied Sciences (Netherlands)
HOGENT University of Applied Sciences and Arts (Belgium)
Frankfurt University of Applied Sciences (Germany)
Metropolia University of Applied Sciences (Finland)
VSB – Technical University of Ostrava (Czech Republic)
Politécnico de Lisboa (Portugal)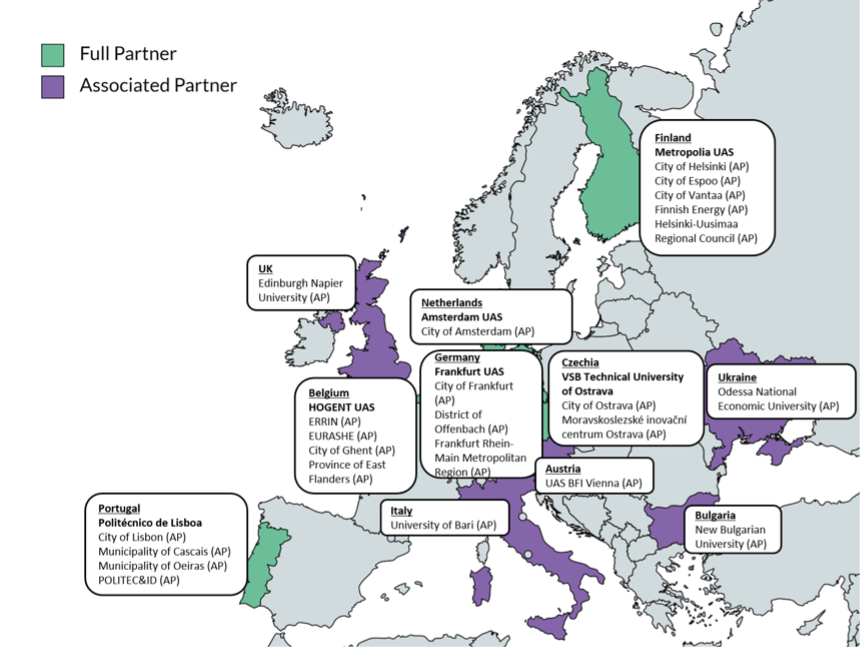 Associated partners: please see www.ureka.eu
More information
For more information or in case you would like to get involved in U!REKA, please contact Mona Roman: mona.roman [at] metropolia.fi (mona[dot]roman[at]metropolia[dot]fi).
Contact information for U!REKA partners is available on www.ureka.eu.