Metropolia's learning and development environments attract global interest
13.9.2022 - 09:00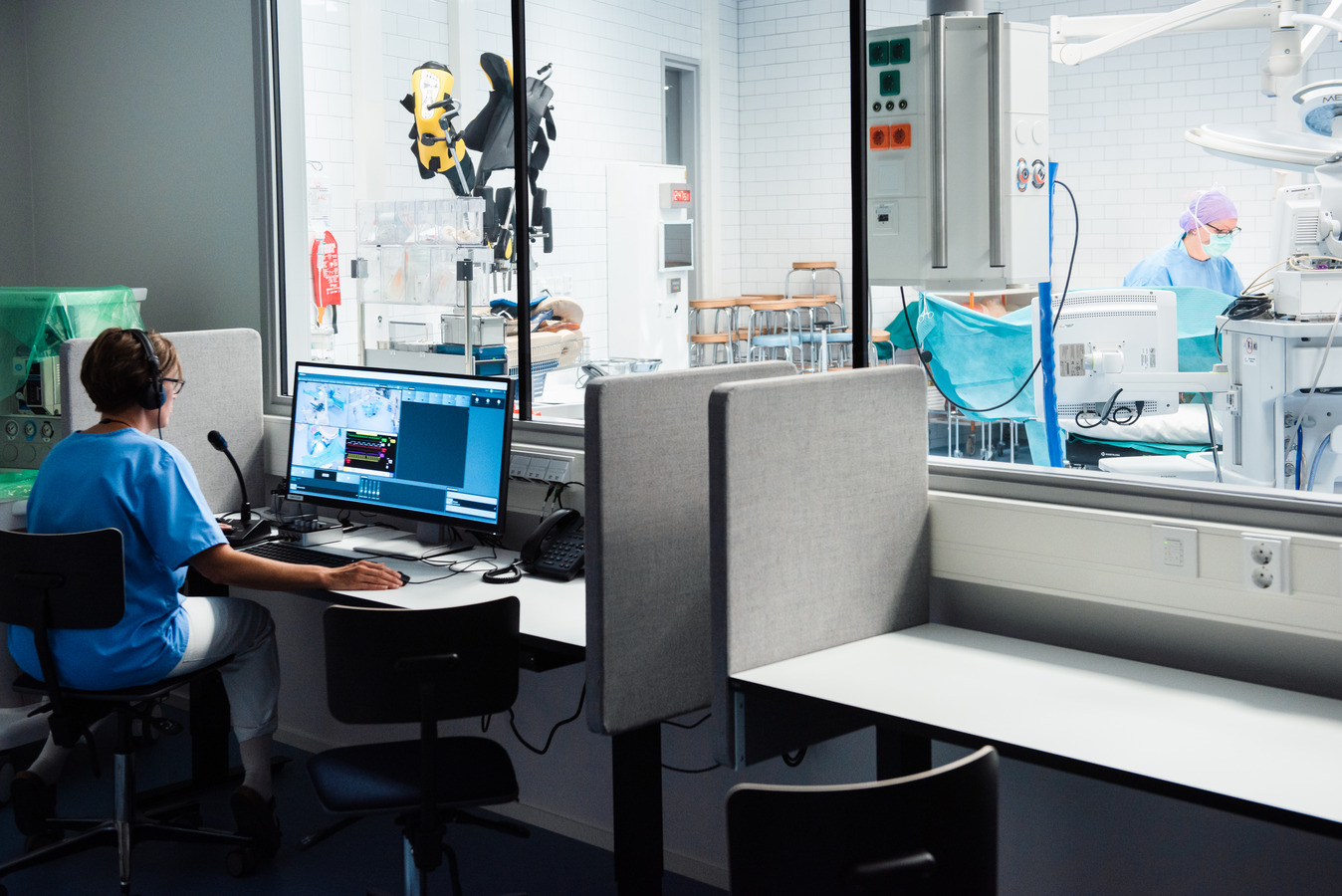 The modern health facilities at Metropolia's Myllypuro campus serve as both learning and collaboration platforms. During the HIMSS conference in June, the Myllypuro facilities were used as a venue for interested health experts and journalists.
An international group of top healthcare experts visited the Metropolia Simulation Hospital and Movement Laboratory during the Healthcare Information and Management Systems Society (HIMSS) conference in June. The Simulation Hospital, the largest in Finland and unique on an international level, is fully equipped and up to standard - with reception and operating rooms, a delivery room, an operating theatre, intensive care and even an ambulance to safely simulate hospital situations.
The Simulation Hospital and Movement Laboratory teach clinical skills and the environments are open to testing and research by wellness and health technology companies through the Metropolia Proof Health® concept. In addition to the testing environments, companies will have access to the expertise of a multidisciplinary team of experts.
"Our goal as a university is to support the preclinical phase of health and medical technology companies to smooth their path towards the clinical testing and research phase. We want to provide a modern testing platform for companies, research institutes and public sector actors," says Minna Elomaa-Krapu, Innovation Director at Metropolia.
Metropolia's Movement Laboratory and Simulation Hospital featured in international media
During the HIMSS conference, several international journalists came to visit the Myllypuro premises. So far, four foreign media have written about Myllypuro's Movement Laboratory and Simulation Hospital.
Forbes, a leading financial media outlet, focused its article on Metropolia University of Applied Sciences and Cambridge University Hospital. In its article, Forbes wrote about Metropolia's comprehensive simulation hospital and simulation pedagogy, as well as the XR technology used by Cambridge University Hospital. Read the Forbes article.
The Italian magazine Impresa Sanità wrote an article "La Sanità digitable abita in Finlandia, Digital health lives in Finland", which gives a very comprehensive presentation of the Myllypuro simulation hospital and business laboratory. The article describes what Myllypuro's facilities aim to achieve from a sustainable development perspective at Metropolia; as a pre-professional clinical learning environment and as a multidisciplinary testing and research environment for companies. Read the full article.
The Italian Agenda Digitale wrote an article "Assistenza sanitaria: l'esempio finlandese e i simulation hospital", focusing on an authentic and standardised simulation hospital. The article writes about the role of Metropolia University of Applied Sciences in training health professionals and developing the health sector and health technologies. Read the article here.
An article in the Spanish magazine Cinco Días also focuses on the role of the university in supporting innovation in wellness and health technology and in training the future health professionals. The article focuses on the role that Metropolia University of Applied Sciences is playing in a complex world as a challenge solver. Read the article.
"The international media is interested in Metropolia's new and modern facilities and interdisciplinary approach, as well as the university's role in strengthening knowledge, innovation and business. Concepts that combine learning, research, development, innovation and business are currently attracting interest all over Europe. We want to be pioneers in what the rest of Europe is just starting to do," says Elomaa-Krapu.
See also: Health Capital Helsinki's international articles on the topic.
More information
Innovation Director, Customer-oriented Wellbeing and Health Services