SIMHE-Metropolia and SIMHE at University of Helsinki Presented Their Services at the World Village Festival in Helsinki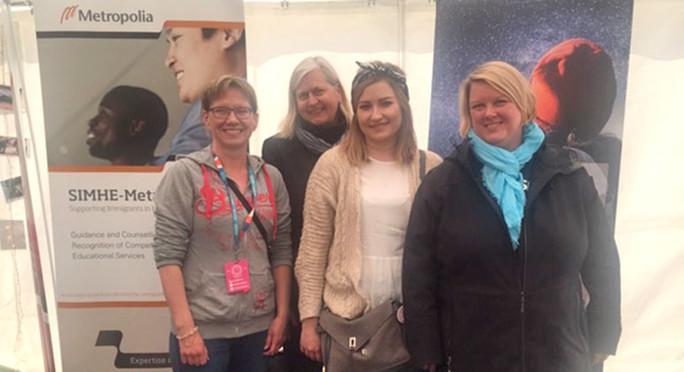 Kaisaniemi park and the Rautatientori square in Helsinki were the arena for the World Village festival last weekend. The festival gathered some 400 non-governmental organisations, Finnish as well as international artists and many speakers displayed their services and debated over common interests. The festival celebrated its 20th jubileum this year with the climate change as the main theme. Around 45 000 visitors enjoyed the event despite the pouring rain and cold weather.
Open Finland Tent Offered Information to Recent Immigrants in Finland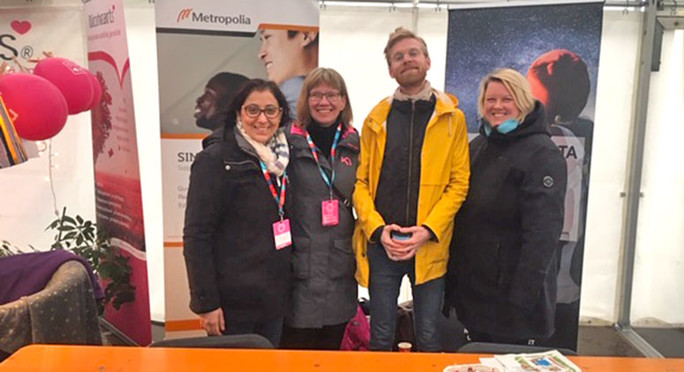 SIMHE-Metropolia and SIMHE services at University of Helsinki shared a stand in Open Finland tent to meet people who were interested in study opportunities and particularly about possibilities for immigrants. At the stand there were many delightful encounters with new and previous SIMHE customers as well as with Metropolia graduates.
In addition to SIMHE services, the tent hosted many organisations such as Finnish Refugee Council, Helsinki Summer University, Kela and Nicehearts. It was also possible to have a face painting or taste Ben & Jerry's ice creams in the tent.
SIMHE Services Unite Forces in the Helsinki Region
Both Metropolia and University of Helsinki offer SIMHE services such and guidance and counselling for highly educated immigrants and those eligible to apply for higher education. They also build networks together and separately with various actors in the field. Fairs and festivals like the World Village Festival provide excellent opportunities to meet potential customers, organisations, educational institutions and authorities working with immigration-related issues.
This year was the first time SIMHE took part in the World Village festival and it fortified the cooperation between the two institutions: SIMHE services were represented through a joint flyer, and both institutions shared information about the event via their social media channels.
More information