The project is over.
Knowledge Practices Laboratory KP-Lab focuses on studying learning practices in professional and educational environments and developing tools to support innovative practices of sharing, creating and working with knowledge.
In the "trialogical" approach, the view is taken that learning takes place as a result of activities where individuals participate in collaborative activities that involve the production of concrete knowledge objects like documents or models which are developed collaboratively and which of themselves are intended for use as tools for future development.

Larger image: A generic model for trialogical process (png)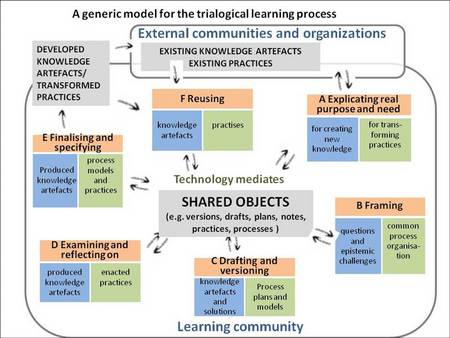 Knowledge Practices Environment (KPE) is a virtual environment to support knowledge creation processes, as well as offering various other tools and functionalities for supporting innovative, reflective and "object-centered" knowledge practices (planning, versioning, commenting, annotating, making semantic search, etc.). KPE provides tools to support four types of mediation; epistemic mediation related to creating and working with knowledge artefacts, pragmatic mediation related to organising and coordinating knowledge-creation processes, collaborative mediation concerning building and managing networked communities and the social relations required for carrying out knowledge-advancement efforts, and reflective mediation. These tools allow knowledge creation practices to be made visible as well as to support reflection upon and the transformation of such practices.

Larger image: Knowledge Practices Environment (png)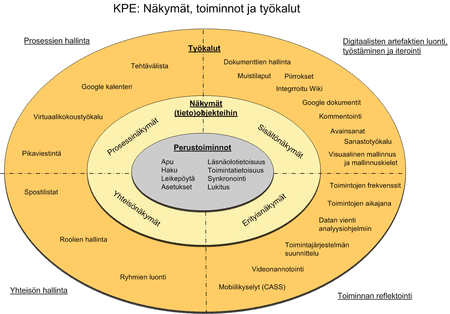 KPE supports collaboration of groups of people around knowledge objects, tracking of the development cycle of specific knowledge objectives, re-use of objects in different scenarios and the creation of flexible ontologies for description of different concepts as necessary. The user experience with KPE differs considerably from the traditional learning environments, where information is organised in tree structures.

Larger image: KPE content view (png)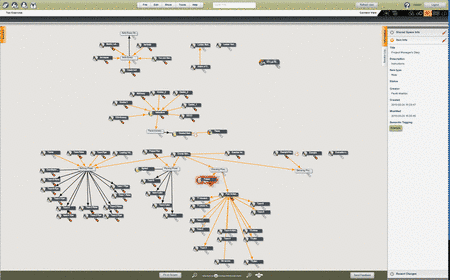 KP-Lab (Knowledge Practices Laboratory) is an EU-funded project involving 22 partners from 14 countries. The project is coordinated by the University of Helsinki and the technology development is lead by Metropolia. Pöyry Oyj is the third Finnish partner in the project.

Duration: 1.2.2006 - 31.1.2011

Co-funding: EU 6. Framework Programme, IST-programme/Technology Enhanced Learning, integrated project (IP).
Further information
tki-info [at] metropolia.fi (tki-info[at]metropolia[dot]fi)