Every semester new student tutors are trained to meet the incoming exchange students and international degree students. Before you arrive at Metropolia, you or your class will be appointed a tutor who is ready to help you settle in. The tutor will assist you in any practical matters puzzling you and help you get connected with the Finnish student life.
Metropolia's Student Union Metka selects and trains the tutors. All tutors are Metropolia students who are happy to help the newcomers.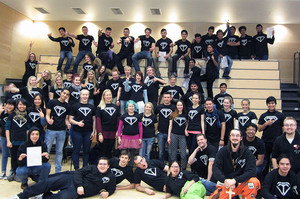 Tutors for International Degree Students
New international degree students who come to study their entire degree at Metropolia will be met by their tutors during the orientation days. The tutors are appointed for a class of students studying in an international degree programme.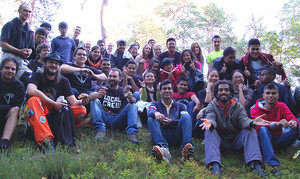 Tutors for Exchange Students
The Student Union Metka organises student tutoring for all incoming exchange students. The tutor service is free of charge.
The appointed student tutor assists you in practical matters, for example
contacts you personally before your arrival and answers any questions you may have
picks you up from the airport or the harbour
depending on your arrival and accommodation situation, brings you the HOAS keys
helps you settle into your new home
helps you during the orientation
helps you find important places in the city
introduces you to Finnish culture and student life
provides information on your campus and free time activities.
How to get a tutor for your exchange?
All accepted exchange students will receive a link to the application form for tutoring by e-mail. Please sign up at the latest one month before arrival.
For more information, see your Welcome Letter that you receive upon acceptance.
Tutors Recommended
By Nuria Rodriguez Lago, Exchange Student at Metropolia, Degree Programme in Film & Television
"I came to Helsinki to study Film and Television with an Erasmus grant. During the first days in such a different country it was definitely a really fast adaptation thanks to the tutor service of Metropolia UAS (METKA student tutor service) and its international coordinators.
I arrived in Finland with two other exchange students, with the first snow of the winter. When I remember our tutors Hanna and Shahid waiting for us at the airport, I only can feel grateful. They had previously picked up our apartment keys — we couldn´t do it, because when we arrived the office was closed — and they traveled with us to our new homes.
Their support didn't finish there. They had thought of all the important and useful things for a newcomer, for example how to use a mobile phone. They gave us a prepaid card, also provided by Metropolia and Metka, and they even went with us to the supermarket to buy some food and other necessary stuff, such as towels. The following days our tutors helped us to open a bank account, to get our travel cards, and showed us how go to the campus to be present at the orientation program, another excellent service of Metropolia.
What would have happened without them, without the tutors? Of course we would have survived, but we would have also needed much more time and experienced displeasures to discover the basic things one needs when living in Helsinki.
I also liked the multiculturalism of the tutor service. From day one you can meet people from different nationalities that have lived in a similar situation to yours and you also meet Finnish students. It was really a good and enriching experience. Services like these help to mark the difference between universities. So I can only say thank you again..."