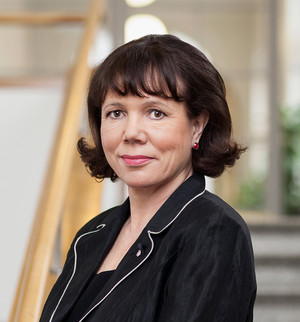 Review of President, CEO Riitta Konkola:
Achieving Growth through Collaboration and Renewal
In 2017, Metropolia continued to execute its strategy with a goal-oriented approach, aiming for renewal, focus and growth.
The year saw vigorous renewal on Metropolia's part. We worked ambitiously to enhance our operating culture and the competence of our staff in digital pedagogy, in particular.
Our focus on cooperation with workplace partners and high-quality teaching produced great results, as a record number of UAS degrees – close to 2,700 in all – were completed at Metropolia last year. Almost 80 per cent of our graduates found work within a year of their graduation.
Innovation Hubs Supporting Growth
Metropolia is particularly seeking to grow the impact of its innovation and business activities and increase its external funding.
We are systematically developing phenomenon-based innovation hubs that enable Metropolia to integrate its competence into national and international innovation ecosystems. These hubs generate solutions, services and experiments for businesses and residents in the areas of our campuses. There are now currently four innovation hubs in operation: Smarter Mobility, Clean and Sustainable Solutions, Customer-oriented Welfare and Health Care Services ( OR Future Welfare and Health Care Services), and Data-driven Construction. The Smarter Mobility innovation hub received the majority of external research and development funding and plenty of media visibility and international interest. External research and development funding grew to EUR 4.9 million, exceeding our target.
Metropolia also successfully grew its business income to EUR 5.2 million. However, this still fell short of our growth target due to the extremely competitive further education market. Foreign trade is expected to grow once the sales work of EduExcellence, the joint education export company of Metropolia, Haaga-Helia and Laurea, reaches its full potential.
A Renewed Operating Culture
Our staff has played a key role in creating new initiatives and fostering growth. They experience their work with students as meaningful. According to a wellbeing at work survey, job satisfaction at Metropolia is at a good level, and supervisors received high marks from the staff.
Metropolia is concentrating its operations at four campuses in Arabia and Myllypuro in Helsinki, Leppävaara in Espoo and Myyrmäki in Vantaa during 2017–2019. The new campuses will offer plenty of benefits to the residents of these areas as well as businesses operating there. We are now also actively revising our operating culture, which aims at shared views and commitment to joint ways of working on the new and renewed campuses.
Achieving Results by Collaborating and Having an Influence
Strong and more close-knit external cooperation networks have expanded our students' operating environment and their opportunities in studies and in research, development and innovation projects. Metropolia, Haaga-Helia and Laurea are engaging in goal-oriented strategic collaboration in cross-institutional studies, education exports and research, development and innovation, among other areas. Moreover, our collaboration with vocational schools has increased, producing good results. On the international stage, we are promoting our RDI activities through the U!REKA consortium together with five other European higher education institutions.
Metropolia actively influences education policy in Finland through its contacts with decision makers and its partner networks. We raised several important viewpoints in various forums and participated in the preparation of the vision for higher education and research in 2030, an initiative launched by the Ministry of Education and Culture.
Sustainable development and environmental responsibility have taken on a growing role at Metropolia. In addition to implementing a Green Office environmental programme at seven of our campuses, we offered students an elective study module in sustainable development for the first time. Moreover, various environmental and social responsibility subjects were included in study contents. Environmental aspects have also been incorporated into construction projects on the new campuses.
Financial Statements
The result for the financial year was a loss of EUR 1,033,000. The loss represented -1.1 per cent of turnover.
Turnover and other operational income totalled EUR 95.9 million.
Income fell by 2 per cent from the previous year due to a decrease in basic funding from the Ministry of Education and Culture.
Operating expenses amounted to EUR 97.1 million, a decrease of 1.4 per cent from the previous year.
Personnel expenses totalled EUR 64.8 million, representing 68 per cent of turnover.
Depreciation was lower than budgeted, by 1.8 per cent.
At year-end, Metropolia's financial situation was satisfactory and its liquidity was good.
Metropolia's financial situation is challenging due to a decrease in government funding. We have already carried out significant adjustment measures in recent years, and 2017 was the first year when our result for the financial year was loss-making. Metropolia's operational results developed favourably, especially in terms of the number of degrees completed, the number of students who completed 55 ECTS credits, and external funding for RDI activities. These results will have a positive impact on our government funding in the coming years.
Quality Underpins Our Operations – New Beginning at the New Campuses
A special achievement in the centenary of Finland's independence in 2017 was the quality label given to Metropolia by the Finnish Education Evaluation Centre. This acknowledgement proves that our operations comply with the quality control principles for European higher education institutions. In fact, one of our values is aiming for high quality in everything we do.
The new campuses and our renewed operating culture will enable us to provide better customer experiences and cooperate more actively and diversely with our stakeholders in the future. Over the next few years, we will continue to develop our operations, engage in dialogue and celebrate shared successes.
Riitta Konkola
President, CEO