Review of the Managing Director, President:
A Year of Partnerships
Metropolia's strategic goals in 2016 were to focus on developing inspiring learning, support renewal in our vibrant UAS community and in professional life, and seek growth through a sustainable economy.
We developed high-quality learning by implementing flexible learning tracks, creating elective study modules that can be chosen by all students and strengthening team lecturing. We initiated services for immigrants with a higher education background to recognise their prior learning and provide them with guidance and advice (SIMHE, Supporting Immigrants in Higher Education in Finland). The goal is to help them find their place in Finnish professional life as quickly as possible.
We sought to increase the social impact of our research, development and innovation (RDI) activities with new initiatives with operators in the Helsinki Metropolitan Area, including the cities of Espoo, Helsinki and Vantaa. External funding for RDI grew to EUR 3.5 million, although it fell short of its target due to delays in the start-up of new projects and decreases in funding from Tekes – the Finnish Funding Agency for Innovation, among others.
Our Business Solutions exceeded their target for turnover, which was EUR 3.6 million. We are seeking new growth from implementing labour market training and providing education exports. We received good feedback from our Business Solutions customers.
Staff Involved in Our Transformation
During the year, we had 1,019 staff, of whom 651 were lecturers and 368 were other experts. The average age of full-time staff was 49.1 years, slightly higher than the year before. A positive development has been our new organisational structure, which has been felt to be well-functioning. Our Sikin sokin yhdessä project, which is carried out together with Metropolia students and staff, seeks to increase renewal and systematisation in the management of job wellbeing, competences, the fluency of work, cooperation and management of the risk of work disability.
Valuing and developing one's own competence forms a natural part of the job for Metropolia's staff. Our staff continued to develop their competence and to gain a better overview of Metropolia through various programmes at the Metropolia Academy for the seventh year in a row.
Our operating culture is being renewed and our operating environment is rapidly becoming digitalised. Digital mentors help guide our staff in developing digital pedagogy, creating a platform for a virtual campus.
Metropolia is also renewing itself by concentrating its operations at four campuses in Arabia and Myllypuro in Helsinki, Leppävaara in Espoo and Myyrmäki in Vantaa during 2017–2019.
Active Cooperation and Impact in Our Networks
Our strategic cooperation was further reinforced in Finland and abroad. Haaga-Helia University of Applied Sciences, Laurea University of Applied Sciences and Metropolia launched a partnership that aims to best serve the UASs' students and working life. With this partnership, we will promote student mobility, entrepreneurial training and education export, organise an English-language Professional Summer School and strengthen our cooperation in RDI projects.
We also initiated active cooperation with Aalto University, as well as with the Amiedu, Omnia, Helsinki Vocational College and Varia vocational education institutions.
U!REKA, a strategic partnership formed with six European higher education institutions, will open up extensive international operating environments for our students and lecturers. Besides Metropolia, the consortium includes Amsterdam University of Applied Sciences (Netherlands), University College Ghent (Belgium), Frankfurt University of Applied Sciences (Germany), Oslo and Akershus University of Applied Sciences (Norway) and Edinburgh Napier University (United Kingdom).
We continue to invest in our social impact, aiming to influence decision-makers in questions regarding educational policy. In addition, we have had discussions with the administrations and business leaders of our maintaining cities on Metropolia's role in promoting competitiveness and the cities' business-friendly image.
Financial Statements: Metropolia's Financial Position at the End of the Year Was Good
The result for the financial year was a profit of EUR 332,131, representing 0.3 per cent of turnover.
Turnover and other operational income totalled EUR 97.8 million.
Income fell by 2.8 per cent from the previous year due to a decrease in basic funding from the Ministry of Education and Culture.
Operating expenses amounted to EUR 98.5 million, a decrease of 3.4 per cent from the previous year.
Personnel expenses represented 68.8 per cent of turnover.
Depreciation was lower than budgeted, by 4.7 per cent.
At year-end, Metropolia's financial situation and liquidity were good.
A year ago, we were faced with a challenging situation, as government funding was cut. We set ourselves a challenge to revise our management practices and organisation, to transform our ways of working and operating culture and to focus on key aspects, namely growth and renewal. And we have succeeded in this. The credit for this success belongs to the staff, whose commitment to our transformation has been one-hundred per cent.
Strategy Moving Us Forward
Rapid changes in our operating environment in the coming years will require strong strategic leadership from us, a continuously renewing operating culture and well-functioning stakeholder relations and networks. We are taking a long-term approach to implementing our new strategic path, the cornerstones of which are focus, renewal and growth. The new campuses and their modern learning environments will play the most important role in our transformation. They will allow us to serve our customers and stakeholders better and more openly.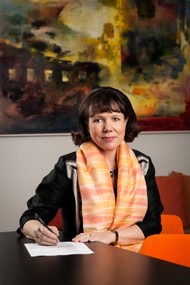 Riitta Konkola
Managing Director, President
---
Review by the chairman of the board and the financial statements