What is Industrial Management
Industrial Management Master's degree program is a 1-year program that allows to study alongside a full-time job. The average student in the program is a 30-40+ years old engineer or team leader, who wants to make a career leap from engineering toward management positions.
Our graduates gain a degree of a 'Master of Engineering' in Industrial Management (level 7 of EQF, European Qualification Framework, corresponding to diplomi-insinööri).
Industrial Management Master's degree program started in 2006 as a forerunner of Metropolia's Master's level education. The program has been developed in collaboration with leading industrial companies and is updated annually. You can choose between specialization Management of Industrial Services or Data Driven Business.
Our warm welcome to join a wide network of peers studying Industrial Management - from the leading industrial companies such as Kone, Outotec, Konecranes, Metso, Valmet, Schneider Electric, GE, ABB, Ericsson, Telia, Elisa, Enfo, and many others, including public organizations and peers representing various SMEs.
How you will study
The courses are conducted via contact teaching, self-study, team work, class discussions, business simulations, workshops and seminars. The studies are integrated into real-life business projects that allow you to study part-time while working.
At the very heart of your studies will be the Master's Thesis, a business development project conducted in a grounded evidence based manner, typically addressing a real-life business challenge of your employer organization.
Our agile learning mode offers you support whilst you are on the move:
Interactive lectures, expert workshops & class discussions
Face-to-face consultancy with experienced faculty members, and opportunity for individual advice, development and help
Multichannel learning with a variety of modes, with course materials available online
No examinations, instead practical assignments and discussion leader sessions
Active peer community of learners.
You will be instructed by experienced staff and experts from both business and academia. See below who your instructors will be.
Content of Industrial Management Master's Program
The degree consists of Professional Studies (30 ECTS credits) and Master's thesis project (30 ECTS credits). Studies consist of lectures, hands-on working with selected tools, workshops, assignments, and projects as well as independent studying. The program is divided into two fields of specialization which is the students freely choose from: Management of Industrial Services, and Data Driven Business. Studies are offered at the Metropolia Karamalmi campus in Espoo.
Common professional studies lay the foundation on which the specialization is built on.
Management of Industrial Services
In today's business environment services are not limited only to pure service organizations, instead all types of organizations must be able to create a sustainable competitive advantage in order succeed in its business. If the customers' internal value creating processes are understood a company can develop a total integrated offering which serves their customers' value creating processes and suits to the competitive situation of most companies today. Companies may still be considering a step to a service focus in their business or they already have an offering comprising services, and in both cases, there is a need for competent developers, who can take the initiative to create new services or develop existing ones further.
Data Driven Business
The amount of data is sky-rocketing but the number individuals, who can interpret the data is growing at a much lower pace. The companies should base their decision making on data instead of a hunch or feeling. Today's businesses call for professionals who can combine financial data, process data and data external to the company in the development of the competitive advantages. Especially, being able to capture skills in modern analysis methods and tools makes a difference.
Choosing a field of specialization
 The program is divided into two fields of specialization: Management of Industrial Services and Data Driven Business. Students can freely choose between specializations. A field of specialization is started only if enough students choose the option. 
Structure of studies
The degree consists of Professional Studies (30 ECTS credits) completed in the autumn 2022 and spring 2023 semester. The autumn semester is dedicated for Professional Studies and the spring semester is reserved for the Master´s thesis (30 ECTS credits). Support from student's employer and integration with her/his work contributes to the learning experience. 
Professional Studies (30 ECTS)
Common professional studies for all students: 15 ECTS
Strategy, Management and Leadership
Performance Management 
Business Process Development
Specialisation studies: 10 ECTS
Management of Industrial Services
Customer Oriented Service Business
Supply Chain Management
Data Driven Business
Business Data Analysis and Visualization
Supporting Business Processes with ERP Systems (SAP)
Elective Studies: select 5 ECTS
Technical Sales
Working in International Contexts
From other specialisation
…
Final project
The student concentrates on working individually and carries out a Master's thesis project (30 ECTS). The project deepens his/her knowledge of his/her professional expertise. The student learns to utilize applied research methods, evaluate his/her own expertise and complements those fields of expertise in an appropriate manner.
During carrying out the Master's thesis project the student applies the data search methods relevant to his/her own field of study, adapts previously acquired information with new information and applies to solve a real-world business problem. He/she will learn to perceive details when part of a larger context.
Career opportunities
After graduating with a Master of Engineering Degree in Information Technology, you may work in advanced specialist tasks in international engineering surroundings of ICT and medical technology industries. 
The program gives a broad view on latest developments in ICT and medical technology fields and gives competences to various advanced specialist tasks such as: 
Project Manager
Product Manager
Sales Manager, Export Manager
Business Development Manager
Head of Unit
Qualification
Master of Engineering
Internationalization
Our intercultural program is conducted in English to allow improvement of your communication skills. The students of the program come from various countries and it offers a great opportunity to network with people with different backgrounds. 
Contact persons
Head of Industrial Management Program
Sami Sainio

E-mail: firstname.lastname(at)metropolia.fi
Strategy, Management and Leadership
- Dr. Thomas Rohweder
Performance Management
- Veijo Köysti, CESIM
Instructors and frequent contributors

Dr. Thomas Rohweder, Principal Lecturer, instructs in Strategic Management, Leadership, and International Operations.
Doctorate from Aalto University of Economics, Department of Management and International Business.
Dr. Rohweder has accumulated roughly 30 years of experience in the Finnish paper making industry, most of which he has acted in various general managerial positions, e.g. heading business divisions, daughter companies, profit units. During his career he has lived as an expatriate in the United States and the Netherlands.
His core competences are strategic planning, management systems and people leadership, in a global business context.
Complementary to his university role, Dr. Rohweder is an active senior management coach.

Dr. James Collins, Senior lecturer, instructs in 'International operations' and R&D skills.
Dr. Collins spent over 20 years in the shipping industry - as mariner and in ship operations, a shipbroker and coal trader, and a marine insurance underwriter - before taking up academic research and teaching. His doctoral studies examined leadership in the UK public sector. In addition to research skills & methods, his teaching and research interests are broadly captured by the topic of 'people in organizations'.
Leena ja Ville Lehtinen (MEng)
Students' Stories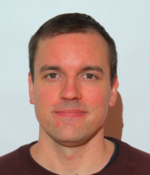 Toni Kymäläinen
Product Manager
Hiab
"After working some years within the same industry, I was looking for opportunities to update knowledge and refresh my view on the latest business trends. Industrial Management Master's studies fit well to these needs.
IM Master's provides a nice recap of literature together with practical experience provided by lecturers, as well as fellow students. It is a great opportunity to meet people from different industries and roles, which in turn provides completely new perspectives in discussions. I have found out that, in the end, many companies tend to struggle with similar challenges, regardless of the industry. As all students in the group have hands-on experience and real life examples, the topics discussed in class are extremely interesting. Moreover, some of the key takeaways can be applied immediately in real working life!"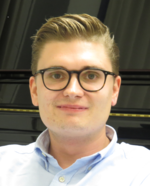 Juuso Virtanen
Product Manager
Meconet Oy
"When I started my studies in Metropolia's Industrial Management Master's program, I had five years of work experience in a role of Key Account Manager and Product Manager, working with domestic and international customers. Soon I noticed that it was the right time to seek for further professional skills and understanding.
Benefits of the studies relate not only to the quality of the courses, lectures and materials only. You will also be surrounded by highly motivated and professional co-students sharing their insights, culture and experience. With high level of motivation, commitment and efficiency, the studies are possible to be managed alongside your work, during the one year journey to became a top class professional!"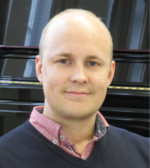 Mika Vinho
Quality and Documentation Engineer
Etteplan Design Center Oy
"The reason why I joined the Industrial Management Master's program was to increase my personal competence and to learn more about leadership and business strategies. The program fulfilled my expectations, but it also gave me a lot more than that. The program has dedicated professors, interesting guest lecturers from top-level companies, spot-on courses and most importantly, it brings together same-minded fellow students across all industry fields.
Networking, sharing ideas and discussing theories with my classmates has been great experience throughout the whole program. However, the schedule is tight due to the one-year study period. Yet, it is well planned and therefore it is doable. The effort will pay off in the end, and I am more than happy to recommend the program to anyone who is looking for a challenge and wants to take the next step in their careers!"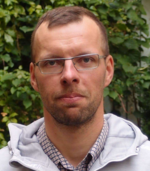 Rauli Rautavuori
Technology Manager
Elisa Oyj
"Metropolia's IM Master's program supports very well my goals of refreshing knowledge and gaining a lot of new. Having spent a fair amount of time with long-term planning during my career, I had often found myself in a situation where it would have been useful to have deeper background knowledge on the topics of Industrial Management.
The people who run the program work hard to support the students, creating a positive atmosphere for learning. The program combines lectures, self-studying, teamwork and practical assignments in a way that relates to the student's own work experience and allows for learning from fellow students as well. The program is very intense, requiring a certain amount of dedication from students. Having been on shorter employer-sponsored courses on strategy and management before, I would say the IM program in its completeness is so far the best I have attended. I feel that the more experience you have, the more the studies can benefit you. The time spent with the program will be time well spent!"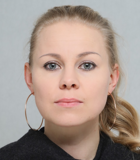 Jaana-Liisa Malin
Head of Digital Services Project Management Office, Finland & Baltics
Oy L M Ericsson Ab
"Industrial Management Master's program raised my interest as it provides a Master's degree in less than a year and studies can be completed alongside a full-time job. The program includes the courses which were a spot-on to my needs. After several years' of experience in service delivery, project management and sales, the courses have given me new insights and tools for both practical work and analytical thinking.
The lectures are a perfect mix between Metropolia teachers and external speakers, who are coming from different companies (e.g. KONE, Toyota, Cargotec, VR) and academic institutions (e.g. Hanken, Aalto University). I have also learnt a lot from my class mates! They are professionals, who have shared with me new perspectives, best practice and lessons learned on common business topics from various industries.
Studying alongside work is not easy. You really need to commit to studying and dedicate time for it. However, it really pays off! This experience has shaped me to who I am as a professional and I'm sure it will only have positive effects on my career development in future."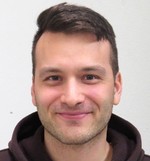 Simone Andreani
Technology Architect, Partner
Roger Studio Oy
"For the first time in my academic experience I have found myself in a community that is giving 100% to everything that is done. I'm talking about the teachers, visiting lecturers and the students. Nothing is left unfinished and the quality of work is great to say the least. Courses in the IM program are chosen with work-life topics in mind and the course assignments are benefiting the companies they are done for. Perhaps the best part in the IM program are the students. Different backgrounds make a great basis for learning from each other and discussions in the classrooms are rich because of that. The IM Program is very efficient, but it also means that the one year of studies is intense and requires time to be put into it. But it will be well worth it."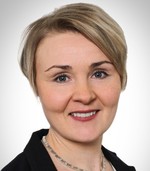 Päivi Stordell
Quality Manager
Pylon Group
"For me the Industrial Management Master's program provides a perfect professional upgrade in a compact package. The degree gives fresh insights from management, business models, process development and performance management. Studies are intense but they are still doable alongside a full–time job. I chose Metropolia because compared to other Master's programs Metropolia Master's provides truly up-to-date academic and practical knowledge. I have highly valued the possibility to pick brains with guest speakers from various industries as well as the privilege to join lectures of world class academics. The top moment of this fall was the lecture of the Legend of Marketing Dr. Christian Grönroos from Hanken School of Economics! Still, the thing I value most in this degree program is the fellow students – being able to network and exchange experiences with them is the absolute cherry on top of this degree!"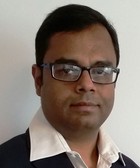 Subhashis Ghosh
Senior Technology Manager
Outotec (Finland) Oy
"I had been looking for such a Masters program in business management for some time. In this search, I formulated four personal decision making criteria i.e. the program should be for engineers, for full-time working professionals, with relatively short but intense courses, and with focus on industrial applications. Then I stumbled upon Metropolia's Industrial Management Master's, which fitted all these requirements to the tee. After joining, I have found out that not only the program is extremely intense in nature, but all the course modules are designed around industrial applications. In addition to the general management courses, the program also focuses on the relatively new management research discipline of service science. I found this approach truly motivating and effective.
Apart from the faculty experts with rich academic and industrial experience, the class is also full of intelligent, experienced and motivated professionals coming from diverse industrial backgrounds. This makes the learning experience engaging and co-creative. Based on my personal experience, I can recommend this program for any industry practitioner with technical background, who are seeking to enhance their business acumen and grow personally in order to contribute better in their organizations. "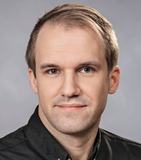 Jesse Sarkanen
Customer Service Representative
Global Parts Customer Service
Konecranes Finland Oy
"I joined the Industrial Management Master's program in order to challenge myself and develop my business competence, which will benefit me in long run. IM Master's program gives deeper understanding of managerial aspect in international business, as well as it gives tools to handle situations which I did not thought much about before. The schedule is doable but demanding, especially when working full-time. The scope of subjects is wide, but is built to utilize what you have learnt in practice before and benefit your company. With the help of the lecturers, own hard work, and co-creation with the fellow students, the learning experience can be amazing. If you are ready for going extra mile in order to improve your business and managerial know-how, I can recommend to do this program."
MEDIA and awards
Lauri Maristo awarded for Metropolia's Best Master Thesis in Technology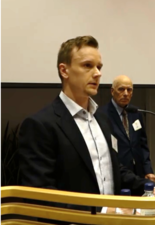 Lauri Maristo (MEng) graduated from the Industrial Management Department in May 2017. He earned the 'Award for Best Master's Thesis in Technology-2017' at Metropolia University of Applied Sciences. The Award was granted on October 2nd 2017 at Metropolia's Alumni gathering event.
We congratulate Lauri on his achievement!
See Lauri's speech (YouTube) at receiving the award.
Karri Heinonen's thesis awarded by Finnish Operations Management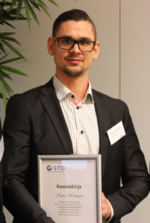 Karri Heinonen (MEng), IM student 2014-2015, was awarded for the best Master's thesis by the Finnish Operations Management Society in November 2015. This is the first time in the Association's history that a student from a University of Applied Sciences is recognized and awarded in this competition.
Read the press release in Finnish.
Tommi Karlsson's thesis awarded for Business process development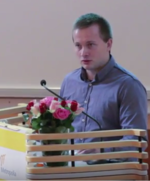 Tommi Karlsson (MEng), IM student 2014-2015, was awarded the best Master's thesis in Business process development produced in Metropolia University of Applied Sciences in 2015. The award was granted on October 9th 2015 at the Alumni gathering event celebrating 10 years of Metropolia Master's programs.