President and CEO's review 2021: Year of multidisciplinary cooperation and sustainable solutions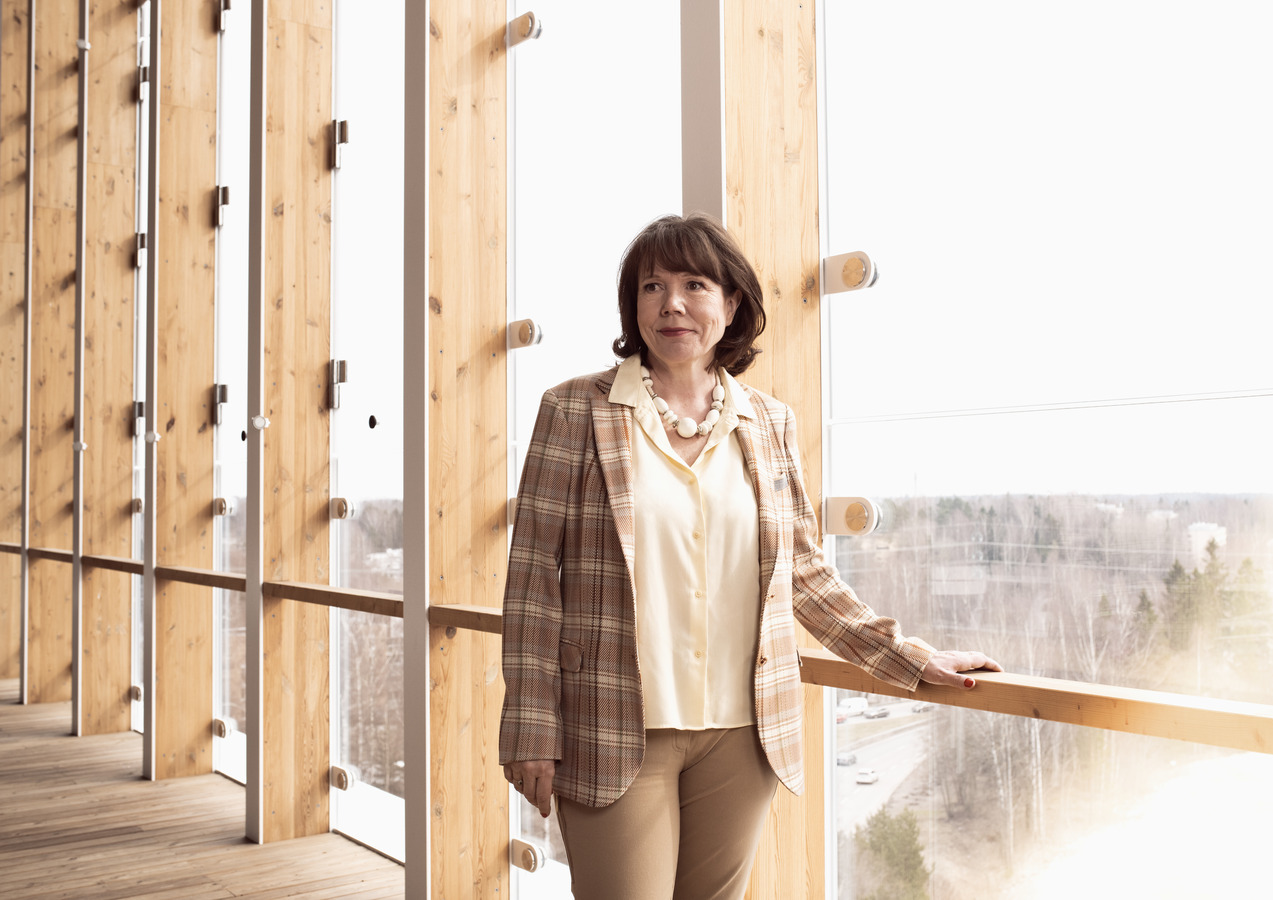 2021 was a successful year for Metropolia in terms of operations and finance.
At the turn of the year, we launched our new strategy that guides us boldly to take responsibility and to influence things regionally, nationally and globally. Metropolia aims to be a bold reformer of expertise and a builder of a sustainable future. The core of the strategy is made of lifelong learning and phenomenon-based innovation hubs. Sustainable development and growth and digitalisation guide Metropolia's operations at all levels. We implement our strategy in people-oriented, sustainable, open and comprehensive cooperation, across boundaries. We are working to solve social challenges and to speed up change towards a sustainable future.
Sustainable development, part of everyday life at Metropolia
Sustainable development and growth was one of the key themes at Metropolia. The goal is that sustainable development and responsibility will guide all of Metropolia's operations and that Metropolia will be carbon-neutral by 2030. We promote responsible actions in our own operations and influence society positively by training sustainable development experts and solving sustainable development challenges in our innovation hubs. We aim for growth within ecological and social constrains in Finland and internationally. We strive to create conditions that enable sustainable growth throughout our society. Sustainable growth is also important in order to ensure Metropolia its necessary financial resources. The frame of reference for sustainable development stems from the UN Sustainable Development Goals.
We made good progress in many ways during the year with sustainable development work, and this will be described in more detail in Metropolia's first Corporate Social Responsibility Report in May 2022.
Investment in wellbeing in exceptional times
The year was characterised by having to respond to needs arising from the exceptional conditions. Flexible systems were put in place to provide remote and contact teaching and studying, in appropriate proportions. The year began with Metropolia continuing to operate in hybrid mode.
We invested in the mental wellbeing of staff and students. During spring 2021, we contacted practically all Metropolia degree students, wanting to hear how they were coping, whether they were making good progress with their studies and whether they needed support when operating in remote or hybrid mode.
According to a staff survey conducted in spring 2021, staff wellbeing was at a good level despite the coronavirus pandemic. Particular attention was paid on time- and location-independent ways of working, interaction over the network and support for community activities. Coaching and work counselling and various workshops and events promoting dialogue and participation was organised for supervisors and staff by Metropolia's process sparring team 'Parru'. 
Comprehensive and people-oriented lifelong learning
Lifelong learning is considered at Metropolia from a comprehensive and people-oriented viewpoint. At its core lie the learner, flexible and individual learning solutions at any life situation and comprehensive ecosystem cooperation with other lifelong learning partners in the greater Helsinki region. The change towards the new mode of operating and mindset is guided by the Metropolia Match® model.
In 2021 we focused renewal especially on ensuring that supply met the demand, on developing learner-oriented guidance, on increasing the role of on-the-job learning and on improving strategic cooperation among the greater Helsinki region's lifelong learning providers. We promoted RDI-based learning in a number of ways. The number of credit points completed within the innovation hubs totalled almost 24,000.
The number of degrees completed at Metropolia increased from the year before. Metropolia students completed 2,711 UAS Bachelor's degrees (2020: 2,680) and a record-high 516 UAS Master's degrees (2020: 485).
In the joint application in spring 2021, Metropolia was the most popular university of applied sciences in Finland, with 11,215 applicants putting Metropolia as their first choice. Measured in terms of eligible first-choice applications per number of intakes, Metropolia was Finland's fifth most attractive university of applied sciences.
The number students that completed 55 credit points, considered to be the number indicating that they are making good progress, totalled 9,101, up by 8.2 per cent on the year before, when there was a dip in the number of students reaching this mark owing to the spring 2020 Covid lockdown.
The number of credit points within open UAS, courses offered jointly by higher education institutions and in preparatory courses and in specialisation studies (79,905) increased by 23% from the previous year. Open UAS studies were taken by 7,378 students worth a total of 41,302 credit points. The increase in credit points is due to a greater availability of courses, for example.
Innovative solutions to address social issues
During the year, Metropolia cooperated systematically and successfully with their extensive partner network and stakeholders in terms of teaching, RDI and higher education development.
Strategic cooperation with higher education institutions and other educational institutions in the greater Helsinki region proceeded significantly in 2021. Cooperation between the University of Helsinki and the 3UAS alliance was started, focusing on research, development and innovation and teaching.
Metropolia's five phenomenon-based innovation hubs enable a novel way of learning, creating solutions and working in multidisciplinary ways for the best of all society. The innovation hubs operate on an ecosystem principle; solutions are created as a result of bold thinking by various actors, by doing and learning together.
In 2021, the innovation hubs focused not only on high-quality RDI projects but also on open collaboration platforms on the campuses, ecosystem partnerships and the improvement of students' innovation and entrepreneurship competences. One of the highlights of the year was when the Regional State Administrative Agency for Southern Finland granted Metropolia's HyMy-Village (Wellbeing from Myllypuro) permission to provide private healthcare services.
Financial statements 2021
Turnover totalled EUR 110.7 million, a growth of 7.3% on the previous year.
Turnover from business activities was EUR 5.1 million, up by 10% on the year before.
Operating expenses amounted to EUR 103.8 million, an increase of 5.8% on the previous year.
Personnel expenses totalled EUR 68.8 million, representing 62.2% of turnover.
Depreciation and amortisation amounted to EUR 8.2 million.
The result for the financial year was a profit of EUR 7.2 million. Profit for the year increased by EUR 2.1 million on the previous year. The result for the year includes the sum of EUR 2.4 million which the Ministry of Education and Culture was not supposed to have paid to Metropolia, so the rectified result was EUR 4.8 million.
The equity ratio was 74.3% and solvency remained good.
Overall, Metropolia's financial situation was good at the end of 2021. Liquidity and solvency remained good, and the equity ratio was 74.3%.
Events after the close of the period
Metropolia's affiliated company EduExcellence Oy has made agreements for on-demand degree programmes with Kenia. The agreement is Finland's biggest deal on on-demand degree programmes, consisting already in the first stage almost 450 degree programme students, and being worth in excess of EUR 10 million.
As of 14 February 2022, Metropolia has returned to most operations being carried out in the campuses, and is investing in the improvement of wellbeing in the community, and also improving the community spirit. Metropolia will continue to have in place the proactive measures applied in the financial year 2021 to keep the coronavirus pandemic in check. Metropolia applies the hybrid model and adjusts its coronavirus recommendations regularly as the situation develops.
The war that began in Ukraine in February has touched us all deeply. As a higher education institution, we have a particular responsibility to ensure that all members of our community are treated equally and without discrimination. During this challenging time, we have also paid particular attention to the wellbeing and coping of students and staff. Metropolia is preparing, in accordance with instructions issued by the Ministry of Education and Culture, to offer study opportunities and SIMHE services (Supporting Immigrants in Higher Education) to Ukrainian refugees arriving in Finland, in the form of recognition of prior learning.
I wish to thank all our stakeholders and our higher education community for successful cooperation and learning together in 2021.
Riitta Konkola,
President and CEO
See also
Read more: Financial statements 2021: Operationally and financially successful year (31.3.2022)