Why study with us?
Looking for new career prospects? Interested to broaden your knowledge in Information Technology? Need new skills to deal with upcoming challenges?
Our aim is to educate you to work in advanced specialist tasks in the field of ICT. The studies enable you to follow the professional development of the field, both from the applied research and practical viewpoints. Continuous learning is a must in all professional tasks and ICT is one of the fastest developing technical fields.
The program is targeted for professionals in working life wishing to become a Master in Information Technology. Studies are designed and implemented in such a way that students in full-time employment can participate (see the Timetable below). Prerequisite for participation is a bachelor level degree in engineering and at least two years of working life experience is required. There is no entrance exam. The student selection is based on two preliminary assignments, see details in application pages.
Our intercultural program is conducted in English to allow improvement of your communication skills and get familiar with students from different countries and cultures. Your Master's degree will directly refer to your real life project and address both your company's and your personal interest. The teaching is aimed at professionals both with an industry and a public sector background.
Program content (preliminary)
The degree consists of Professional Studies (30 ECTS credits) and Master's thesis project (30 ECTS credits). Studies consist of lectures, laboratory work, workshops, assignments, and projects as well as independent studying. The professional studies are offered at the Karamalmi campus.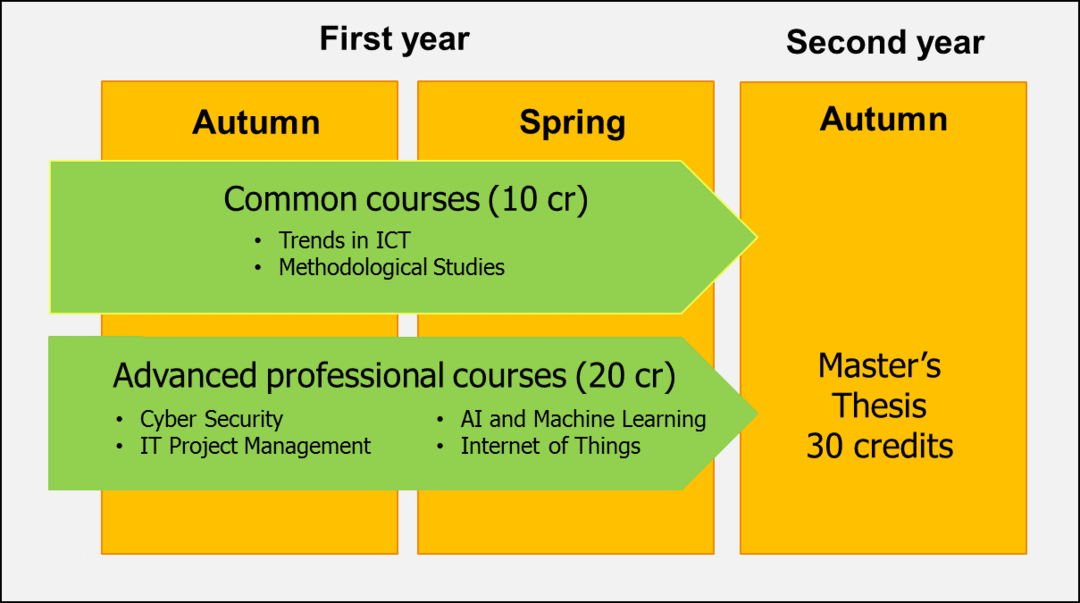 In the first study year, you will undertake a course in research methods and attend a seminar on Trends in ICT, and complete 20 ECTS from our course offerings for advanced professional studies. You can broaden your studies by completing one course outside the advanced professional courses offering or by doing a research or innovation project on an agreed topic.
The methodological studies provide you the required knowledge to prepare and facilitate a high quality Master's Thesis. The lectures on Trends in ICT -course are given by professionals from highly esteemed companies in the field of ICT and will provide you with a good understanding of the current status of the business and the challenges the industry is facing.
Professional courses
The advanced professional courses gives a broad and up-to-date knowledge on this fast developing field of networked applications. Cyber Security gives an insight into existing and emerging technologies and challenges faced in this increasingly important field. The IT Project Management provides understanding on how to conduct a successful IT project from business, technical and ethical point of view. The Internet of Things (IoT) course extends this knowledge into internetworking of devices to collect and exchange data to form "the infrastructure of the information society". The Artificial Intelligence (AI) and Machine Learning course will provide students with an overview of recent developments in AI with emphasis on machine learning and reinforcement learning.
The second study year (autumn) is reserved for the Master´s Thesis. The study is usually completed in cooperation with your employer.
Preliminary course contents 2020 - 2021
Common Courses
Trends in ICT
Presentations from external representatives in the field of ICT covering new services, business models and other innovations effecting the overall ecosystem
Presentations from students on selected IT related topics
Assignments given during the course
Methodological Studies
Research approaches (action research, multiple and single case studies, construction research approach)
Research methods and techniques applicable in a Master's Thesis
Data collection methods and approaches to data analysis (including reliability and validity issues)
Structure, research design, and objective of a Master's Thesis
Advanced Professional Studies
Cyber Security
Contemporary cyber security threats
Threat analysis and cyber defence
Cyber security practices
Assignments on cyber security
Seminar presentations
IT Project Management
 Managing IT people and teams
'80 percent of IT projects fail!' - Why?
Organizational culture and communication
Cross cultural work
ITIL (People & Partners)
AI and Machine Learning
Overview of recent developments in artificial intelligence with emphasis on machine learning and reinforcement learning.
Deep learning, and its applications in areas such as predicting from multidimensional data, performing image recognition, text analysis, and image and text generation. Dense, convolutional, and recurrent neural networks.
Basics of reinforcement learning and agent/environment modelling with Markov decision processes.
Practical hands-on programming assignments using Python and relevant machine learning libraries.
Internet of Things (IoT)
Potential applications and services provided by IoT
The overall architecture of IoT
Standards and frameworks supporting IoT
Enabling technologies for the IoT
Your competence portfolio after you have completed MEng degree
Broad view to information technology presented by leading companies in the ICT
Up-to-date knowledge on selected topics
Ability to evaluate and develop your own knowledge and capabilities
Valuable network of international experts to boost your career
Career Prospects
After graduating with a Master of Engineering Degree in Information Technology, you may work in advanced specialist tasks and conduct challenging projects in international engineering surroundings of ICT. In some sectors a Master's degree is often a prerequisite for management positions.
Students' Stories
Brothers in Arms - two colleagues from Nokia at the Master's graduation ceremony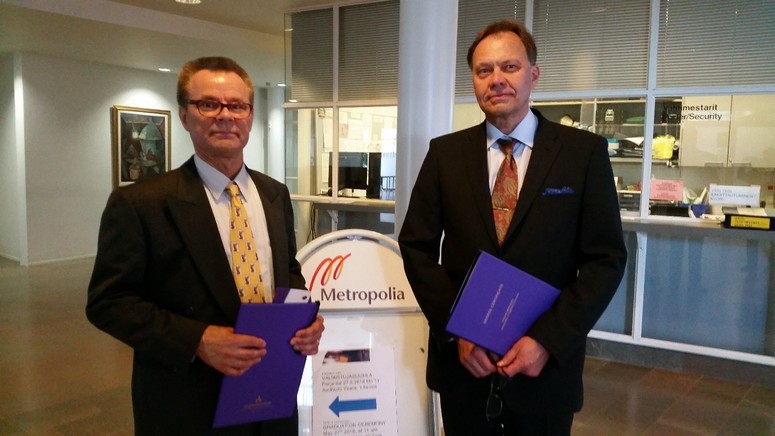 I have always been interested in learning new skills and learning in an intensive way such as in this Master's program suits me the best, said Raimo Ahosola at the graduation ceremony. And you never know when a formal Master's level degree is required.
Today's fast changes both in technology and job market require constant update to one's knowledge. Continuous learning has become a habit for me, continued Jari Kallio. I also prefer a traditional type of education where a teacher is present compared to virtual, web-based courses. Even though I must say that combining work and studies was sometimes a little challenging.
This program suited me very well, said Raimo. The content included something totally new but also something that I was already familiar with … therefore the workload was OK. And meeting other students with different backgrounds is always refreshing. I was also able to do my Master's thesis to my employer which helped a lot.
Now when I graduated I must say that the program was an excellent experience, continued Jari. I also enjoyed meeting new people from different companies and countries. Maybe some courses outside the technical area could have been nice to broaden the scope as engineering is not the whole world. This was probably the last degree program as such that I complete, but I will never stop studying.
I think the main value of this program to me was that it provided a wide view on the IT-field. When you are working for a long time in the same position in a company it is difficult to see what else is happening there, added Raimo. Also the academic skills obtained in this program are for sure valuable in future projects.
Lavanya Alamuri, Master of Engineering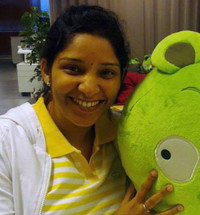 I spent most of my life in India and moved to Finland in 2008 with my husband for his job at Nokia. I have a bachelor's degree in Computer Science and Engineering and worked for Wipro Technologies Ltd, in India for three years before moving to Finland. The sudden introduction to a very open Finnish culture was a bit of cultural shock for a while. Metropolia created a perfect environment for me to come closer to the Finnish culture and education system.
Master's degree programme in Information and Technology has the most amazing combination of subjects. They fell in perfect place for my aspirations to be in pace with digital age. Coming from a Computer Engineering background, studying mobile programming, cloud services and networks expanded my knowledge in mobile domain, which helps me to a great extent in my job of creating games at Rovio.
I did my Master's thesis on Mobile Advertising which provided me an avenue to strengthen my understanding on mobile market and the potential for advertising. Ads are one of the key revenue generators for the games. This helped me in my work to understand the bigger picture.
Metropolia gave me a truly international, multicultural environment. I loved the flexible learning and student life experience here. Most importantly it suits the working professionals as the courses are in the evening. Teachers are highly supportive and provide a good guidance. Just like my friends, I would highly recommend this programme at Metropolia University of Applied Sciences.
Listen to Lavanya's interview in radio NRJ in 2/2014 (mp3)
Timetable 2020 - 2021 (preliminary)
Autumn 2020 courses last from week 35 to 50, and spring 2021 courses from week 3 to 19. Courses will typically take place during one afternoon and two evenings per week. Common courses are planned for Monday evenings and start at 17.00.
Open University of Applied Sciences
Open University of Applied Sciences (Open UAS) gives you an opportunity to study all the advanced professional courses and Trends in ICT course of the Master's Degree Programme in Information Technology.

Open UAS gives you an opportunity to
build up on your knowhow and skills needed in working life
learn about studying at a University of Applied Sciences
carry out courses before applying for a degree programme
study as a hobby