Enhance your competence as a procurement professional
During your studies in Procurement Master's Degree Programme, you learn to analyze and develop the procurement function to serve the goals and strategies of a company. The overall goal is to learn about driving value through the supply chain to the end customer, how procurement can be turned into a strategic function and utilize technology as an enabler of effective supply management, how sustainability and collaboration are at the core of procurement and learn how to sell the business case of procurement to the rest of the organization.
After your studies you have gained the needed theoretical and applied knowledge, skills, and competencies to manage and develop company's external resources, supplier relationships, procurement process and procurement organization. In addition to procurement specific competencies you enhance your leadership and business competencies.
Master of Business Administration, Procurement, 90 ECTS
Preliminary Curriculum (subject to change):
Research and Development Methods & Professional Growth 10 ECTS
Research and Development Methods 5 ECTS (1st semester)
Professional Growth 5 ECTS (1st semester)
Professional Procurement Studies 30 ECTS
Procurement Strategy 5 ECTS (1st semester)
Collaboration and Influencing Skills 5 ECTS (1st semester)
Procurement Performance Management 5 ECTS (2nd semester)
Procurement Innovation 5 ECTS (2nd semester)
Procurement Technology 5 ECTS (2nd semester)
Sustainability 5 ECTS (3rd semester)
Alternative Advanced Professional Business Studies 10 ECTS (2nd-4th semester)
Project Management 5 ECTS (spring)
Circular Economy 5 ECTS (fall)
Service Design 5 ECTS (summer offering)
Quality Management 5 ECTS (spring)
Electives 10 ECTS (2nd- 4th semester)
Master's Thesis 30 ECTS (1st- 4th semester)
Advanced professional studies in procurement include courses such as Strategic Procurement, Collaboration and Influencing skills, Procurement Technology, Procurement Performance Management, Procurement Innovation and Sustainability. Methodological studies provide students with the basis for carrying out applied research projects, and advanced professional studies provide the necessary knowledge and skills to follow the professional development of the field, both from research and practical viewpoints. You will learn tools of practical mindfulness, emotional intelligence and leadership to unlock your full potential at work and in life. Pls see the course descriptions and curricula from study guide.
You will plan and implement a development project, typically for your own place of work. In doing so, your research, project management and change leadership skills will be enhanced. Networking, team and negotiation skills will be improved in the multi-cultural, tied-to-business setting in which this Master's DP is carried out. You will report your RDI development project as a Master's Thesis combining your development work with academic research.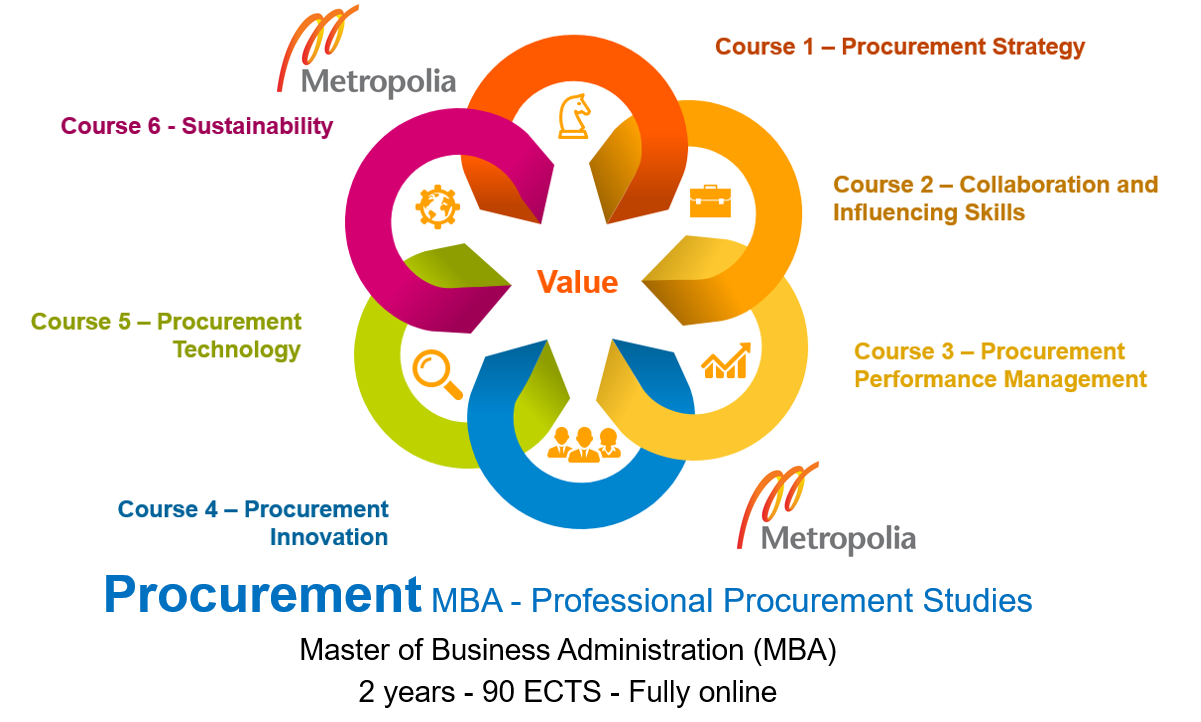 How can I apply?
The joint application for Procurement Programme starts on January 2022 (local time in Finland). Information is available in Studyinfo. 
Study Procurement through Open UAS
You study Procurement also through Open University of Applied Sciences. The extent of Procurement Open path studies 15 ECTS. Enrollment for the paths starting Autumn 2022 is open from 3 August 2022 at 10:00 to 4 August 2022 at 23:59. Read more about Open UAS studies. 
Graduate in Two Years
Master students of Procurement study on a part-time basis. Students achieve their degree in 2 years. The programme is organized fully online. It has been designed to meet the needs of students who prefer distance learning or want to achieve a Master's Degree while working.
Connect online with international professionals
You will study remotely while modern online learning solutions enable interaction with teachers, other students, and staff. This allows you to become a student regardless of where you live. In the beginning of the studies, a mandatory 2-day kick-off is organized online.