Increased competence, better health
Interested in increasing your competence in the health care sector? Need to boost your pedagogical and digital skills to match the future requirements?
Metropolia UAS and Haaga-Helia UAS collaborate to discover new ideas and solutions to build a better, healthier future.
Our goal is to promote health accross lifespan. Our offering contributes to the wellbeing of people of all ages by providing further education opportunities for practising educators in the field of health care. Simulation pedagogics and e-learning environment and tools support the use of technology to enhance learning, teaching and the student experience.
The competence based approach and inspiring learning environments ensure good circumstances for professional growth. Entrepreneurship pedagogics and pedagogical leadership expand the educator's toolkit in promoting reflective thinking and in use of diverse innovative  teaching methods.
By combining Haaga-Helia's high-quality vocational teacher education and Metropolia's multidisciplinary expertise and strong competence as a health care professionals' educator, we offer: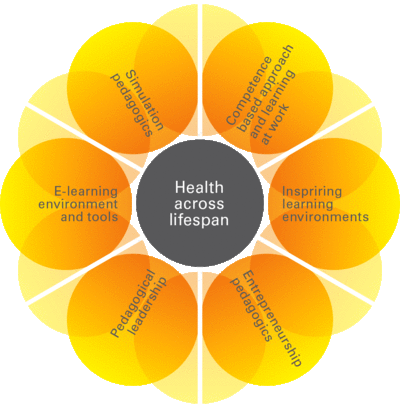 Why us?
Haaga-Helia School of Vocational Teacher Education is an active exporter of vocational pedagogy in many international markets – China, Latin America, Gulf Area, Africa. Haaga-Helia has also hosted successfully many international groups in Finland combining pedagogical theory and methods with school visits and excursions. Haaga-Helia´s approach is a future-oriented understanding of professional pedagogy and the ability to construct working-life relevant education. Everything is based on the learner-centered ideology. Programs are tailored and planned in collaboration with the customer.
Metropolia's innovations in health technology such as VitalSense, a physiological monitoring system, MobiDent, a mobile application to promote elderly people's oral health, and innovations in game pedagogy, have caught the interest of potential international customers in North America, Asia, and Europe. In addition to publications and state-of-the-art simulation environments, Metropolia's expertise in simulation pedagogy manifests itself in the custom-designed workshops that have taken place across Europe and Asia.
Contacts
Metropolia UAS

Marianne Pitkäjärvi
Metropolia UAS
Continuing Education and Enterprise Services,
Manager of Education Export
tel. +358 50 362 4306
marianne.pitkajarvi [at] metropolia.fi

Anita Näslindh-Ylispangar
Metropolia UAS
Head of Department, Clinical Nursing
and Emergency Care
tel. +358 40 749 2344
anita.naslindh-ylispangar [at] metropolia.fi

Haaga-Helia

Jutta Paukkonen
Further Education Manager
Haaga-Helia UAS,
School of Vocational Haaga-Helia UAS,
Teacher Education
tel. +358 40 488 7003
jutta.paukkonen [at] haaga-helia.fi

Pasi Halmari
Program Manager
Haaga-Helia UAS, Export of Education
tel. +358 50 545 2734
pasi.halmari [at] haaga-helia.fi
Submitted on

26.11.2019 - 09:23