VillageOPTICIAN
Metropolia students and employees, as well as seniors, receive a 20% discount on eyeglasses and a 10% discount on other products. The discount applies to normal priced products.
Come and book an appointment by calling 050 436 8048. You can also book an appointment by email kylaoptikko [at] metropolia.fi
Price list
Discount -20% with student and pensioner card.

| Service or product | Duration | Price | -20% |
| --- | --- | --- | --- |
| Eye-examination: determination of refractive error and prescription of eyeglasses | 60 min | 5 € | - |
| Comprehensive eye examination 1: intra ocular pressure, and fundus image | 60-90 min | 10 € | 8 € |
| Comprehensive eye examination 2: intra ocular pressure, and visual field exam | 90 min | 30 € | 24 € |
| Comprehensive eye examination 3: intra ocular pressure and optical coherence tomography (oct) | 90 min | 30 € | 24 € |
| Low vision assessment for visual aids | 90 min | 20 € | 16 € |
| Dry eye examination: determination of tear quality and meibomian gland evaluation | 60-90 min | 20 € | 16 € |
| Dry eye light pulse therapy (IRPL) for severe dry eyeness (4 Sessions) | 4x 60 min | 300 € | - |
| Evaluation of computer glasses (Metropolia staff) | 30-60 min | Free of charge | - |
| Contact lens fitting (first visit): including trial lenses and check-ups required | 60 min | 25 € | 20 € |
| Follow-up visit for contact lenses | 30 min | 10 € | 8 € |
| Measurement of intra ocular pressure | - | 5 € | - |
| Professional certificates and statements about visual requirements, for example, color vision, stereo vision, and contrast vision | - | 10 € | 8 € |
| Spectacle repairs (priced on a case by case basis) | | | |
| Single vision glasses | From 99 € | From 99 € | |
| Progressive glasses | From 250€ | From 250€ | |
VillageOPTICIAN - Optician Services
In our optician services, you will be met expertly and without haste by the optometry students of Metropolia University of Applied Sciences. Our staff, who are health care professionals, are responsible for the services.
In HyMy Village, you will be served by the clinic of the Optometry Sight Center and the VillageOPTICIAN store. Our VillageOPTICIAN store offers all the optician services. The store has a comprehensive selection of high-quality spectacle frames and lenses you can choose from the top of lens technology. We also do eyeglass repairs.
At optician services at a vision center or VillageOPTICIAN store, you can have a comprehensive eye examination and prescribe spectacles or contact lenses. We also use modern eye imaging equipment.
The vision examination begins with a comprehensive interview
Examination include the determination of refractive error, the evaluation of eye interaction, and the inspection of eye structures
You can set aside time for assistive device matching, which will map out the magnifying aids that are best suited to your vision situation. Our selection also includes electronic magnifiers.
During eye examination, pupil dilating eye drops may be used to allow more detailed examination and evaluation of the fundus. Please note that eye drops impair near vision and make it difficult to drive for a few hours. In addition, in sunny or clear weather, you may want to bring sunglasses to reduce glare. You can also always request that eye drops not be used for eye examinations.
If an abnormal finding suggesting an eye disease is found in an eye examination or imaging, we will refer you to an ophthalmologist, and you will receive a written assessment of the eye findings from us.
What does the Optometrist do?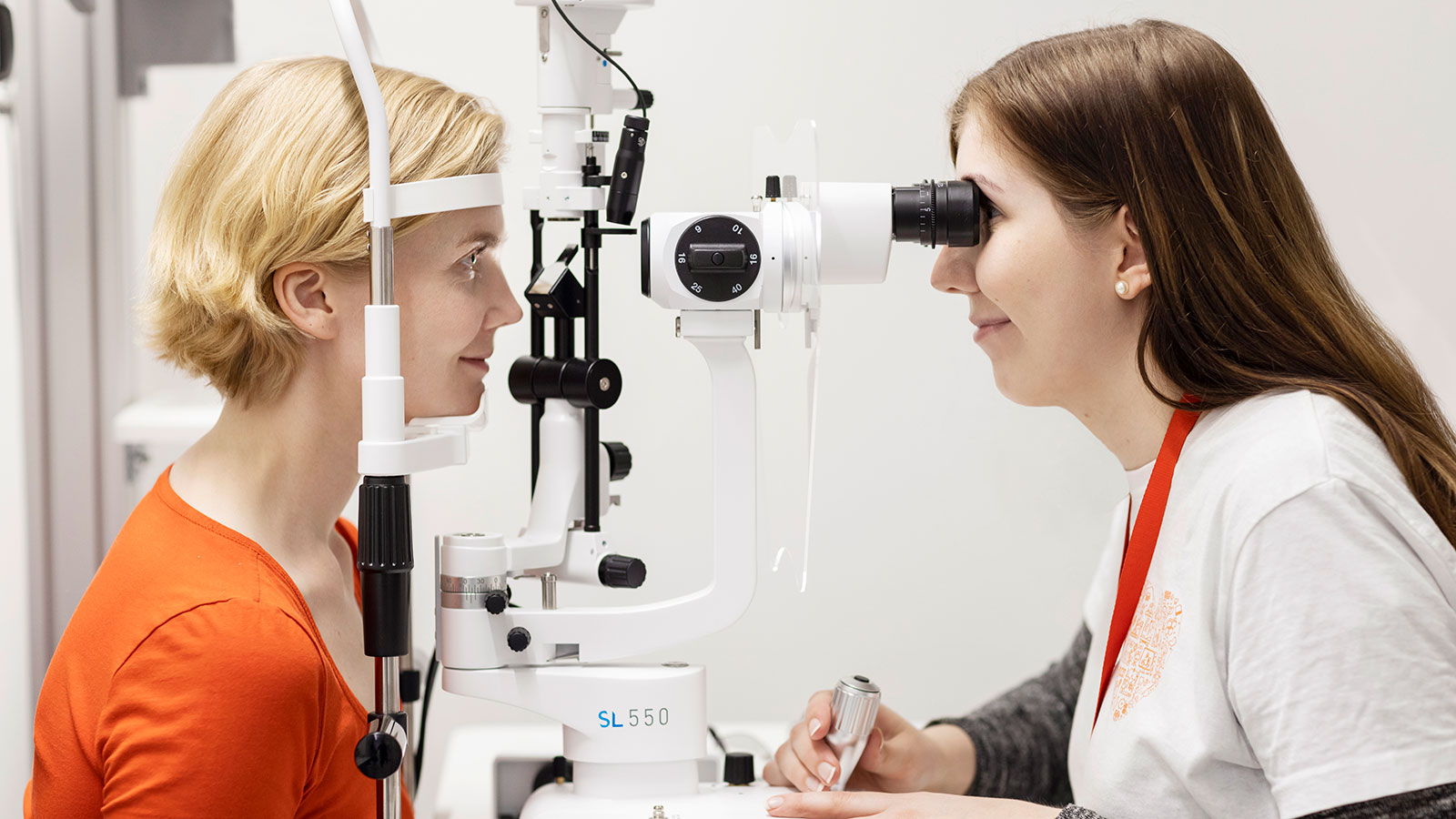 Optometrist is a healthcare expert who specializes in vision and eye health. Optometrist studies the function and structures of the eyes with various tests and imaging. Based on the results, the client is recommended an eye correction that meets his needs. Typically, optometrist is sought when vision-related symptoms, such as impaired farsightedness or nearsightedness, headaches, or when a person wants contact lenses alongside the glasses.
For your benefit
At HyMy Village, our main goal is to provide quality wellbeing and health services without haste and taking into account your individual situation.
Good to know
In HyMy-Village you are a client in a learning situation where our students practice, under the supervision of teachers, in addition to their professional skills, e.g. people-centered interaction with clients.
The research and rehabilitation plan made for you by our students is always checked and approved by the supervising teachers.
During your visit, in addition to the corresponding student, his or her student colleagues may be involved in observing the situation.
If you look younger than 13 years old, we will check your age, as under the age of 13 requires parental consent to participate in the activity.
Your feedback is important to us
Our goal is to provide you expert, flexible and personalized service without haste. Your feedback is important to us for the development of our operations and services. Please, give us feedback on the e-form.
HyMy-Village Patient Ombudsman
provide information about the client's rights and status
advises and, if necessary, assists in issuing a reminder or patient injury report
advises on matters related to patients' law
The patient ombudsman does not provide explanations or take a position on treatment decisions or possible treatment damage.
You can submit a contact request to the patient ombudsman by e-mail to potilasasiamies.hymykyla [at] metropolia.fi
Insurance
Metropolia has a health insurance for patient injuries covered by the Patient Injury Act. Metropolia also has a general liability insurance for damages taking place in education. The terms and conditions of the liability insurance can be seen in HyMy Village.