Price list
Discount -20% with student and pensioner card.
Our physiotherapy students practice in HyMy village from the end of August until the middle of December.
| Visit | Duration | Price |
| --- | --- | --- |
| First Visit | 45-60 min | 30€ |
| Follow-up Visits | 45-60 min | 30€ |
| Gait analysis / running analysis (NB. First-time visit to a physiotherapy student is re-quired, 30 €) | 60 min | 50€ |
| Measurement of body composition in connection with a physiotherapy visit | - | 15€ |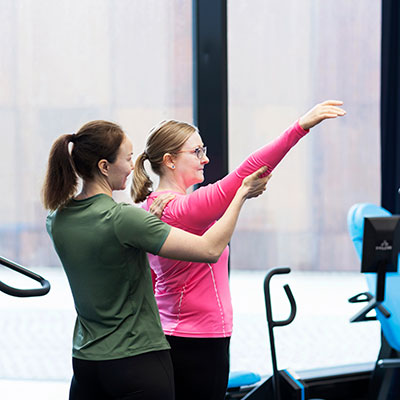 In the physiotherapy services in HyMy Village, you will be met expertly and without haste by Metropolia UAS' physiotherapy students, under the supervision of the supervising teacher.
• At the first visit, we will do a physiotherapeutic examination for you and discuss your goals, wishes and needs.
• Based on your first visit, we will work together to create a follow-up plan to support your goals.
• Your physiotherapy visit may include, for example, functional testing, guidance of therapeutic practice, manual treatment, and health promotion.

Please wear casual clothing that allows you to move easily. Functional tests are mainly performed in underwear. You can also wear shorts and a sleeveless shirt.
What does the physiotherapist do?
A physiotherapist is a multi-skilled professional who promotes people's ability to function, health, well-being and mobility. The competence of a physiotherapist is especially needed when aging, disability, pain, illness, dysfunction or a factor in the individual's daily life limits the ability of the individual or population to function. The work of a physiotherapist in promoting the health of an individual or groups is significant.
For your benefit
At HyMy Village, our main goal is to provide quality wellbeing and health services without haste and taking into account your individual situation.
Good to know
In HyMy-Village you are a client in a learning situation where our students practice, under the supervision of teachers, in addition to their professional skills, e.g. people-centered interaction with clients.
The research and rehabilitation plan made for you by our students is always checked and approved by the supervising teachers.
During your visit, in addition to the corresponding student, his or her student colleagues may be involved in observing the situation.
If you look younger than 13 years old, we will check your age, as under the age of 13 requires parental consent to participate in the activity.
Your feedback is important to us
Our goal is to provide you expert, flexible and personalized service without haste. Your feedback is important to us for the development of our operations and services. Please, give us feedback on the e-form.
HyMy-Village Patient Ombudsman
provide information about the client's rights and status
advises and, if necessary, assists in issuing a reminder or patient injury report
advises on matters related to patients' law
The patient ombudsman does not provide explanations or take a position on treatment decisions or possible treatment damage.
You can submit a contact request to the patient ombudsman by e-mail to potilasasiamies.hymykyla [at] metropolia.fi
Insurance
Metropolia has a health insurance for patient injuries covered by the Patient Injury Act. Metropolia also has a general liability insurance for damages taking place in education. The terms and conditions of the liability insurance can be seen in HyMy Village.